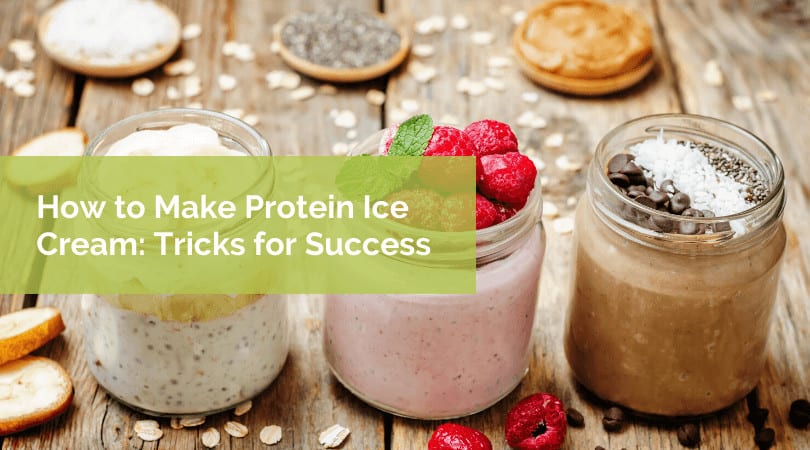 If you have recently decided to introduce more protein into your diet, your first thought might be to instantly run towards the meat section of your supermarket. And while it cannot be denied that meat is filled with protein, there are many other food options you may not have considered that are also high in protein.
Look for high protein foods beyond the meat aisle. You can also fill up your basket with nuts, beans, yogurt, cheese, tofu and even protein supplements like whey protein powder.
Now, when many consumers think of protein powder, the first thing that comes to mind are protein shakes, and although it's true that there are a lot of fantastic protein shake recipes out there, protein powder can in fact be quite versatile.
PROTEIN POWDER CAN BE USED IN SNACKS AND DESERTS
Contrary to popular belief, protein powder recipes no longer stop at shakes. There are many things that you can add protein powder to in order to create tasty, protein packed snacks that don't necessarily have to be slurped through a straw.
With a little creativity and a quick internet search, you can find tons of recipes to help you add your protein powder to cereal, oatmeal and baked goods. The options with protein powder are only limited by your creativity. You can even blend up some delicious homemade high protein ice cream. Why not make your favorite treats nutritious and delicious?
HOMEMADE PROTEIN ICE CREAM RECIPES
While regular ice cream does naturally contain some protein due to the milk or cream, traditional ice cream will also include things you don't want like large amounts of sugar and fat. Although ice cream is delicious, it is definitely not a food you should eat all the time.
Additionally, traditional ice cream may not work for all diets. Many people are lactose intolerant, so enjoying a bowl of ice cream will leave them in pain, no matter how delicious it might taste. When you make your own homemade ice cream, you can leave out any ingredients that don't agree with you or your stomach.
Luckily there are many homemade protein ice cream recipes out there that will succeed in satisfying your craving for a sweet, cool treat without sending you off track on your dietary goals or leave you in pain. And because of the high protein content, they can provide you with the perfect post workout boost.
Are you still unsure of how to make protein ice cream? Here are some great whey protein powder ice cream recipes for you try out at home.
This homemade protein ice cream recipe is fantastic because it doesn't require an ice cream maker or any other special equipment, other than a food processor or blender. With only 3 ingredients, it's super simple to make. This recipe can be used as a base for your creativity. You can add frozen fruit chunks, fun toppings like sprinkles, or nut butters to mix up the flavor of this basic recipe.
Ingredients
1 frozen banana (peel and slice before you freeze)
300 grams of low fat cottage cheese
½ cup of vanilla flavored whey protein powder
Directions
You will need a food processor or blender because you want the end result to be creamy and lump free.
Add all ingredients into a food processor or blender and blend until smooth.
Once blended, place the mixture in a container and place it in the freezer.
After an hour, open the container and give the mixture a good stir.
Then place it back in the freezer for another hour.
Open, churn again and enjoy.
It's your birthday, but you still want to stay on track with your diet. This whey protein powder ice cream recipe is a great way to enjoy a birthday treat, while giving your body a boost of nutritious protein.
Ingredients
1 serving (serving = 1 scoop) vanilla grass fed Vital Whey Protein
1 serving (serving = 3/4 cup) Greek yogurt 0%
¼ cup unsweetened almond milk
1 medium (7″ to 7-7/8″ long) Banana
1 tbsp Rita's Rainbow Sprinkles
1/2 oz Toasted Dried Coconut
Directions:
Stir together Greek yogurt and protein powder as best as you can.
Pour in almond milk 1 tbsp. at a time (approx. 3 tbsp. total) until it's mixed in thoroughly.
Slice up the banana and add it in to the mix. If you prefer a smoother texture, you can blend all ingredients together in a blender or food processor.
Top with 1 tbsp. Rainbow sprinkles and 1 tbsp. Toasted coconut (To make toasted coconut flakes spread unsweetened coconut flakes in a pan and put in oven on 350 for ONLY 3-5 minutes until slightly browned. Keep an eye on it so as not to burn them!).
Lastly, put the mixture in the freezer for 20-30 minutes to let solidify. Enjoy!
Who doesn't love the combination of chocolate and peanut butter? Yum! This whey protein powder ice cream recipe allows you to enjoy your favorite flavor combination in the form of a healthy treat.
Ingredients:
1/2 cup unsweetened almond milk (vanilla, chocolate or unflavored)
2 heaping spoonfuls of cottage cheese
2 ice cubes
2-3 scoops of cocoa Vital Whey protein powder
1 tablespoon NATURAL creamy peanut butter
Directions:
Blend ingredients together until ice chunks disappear (add water if necessary).
Pour into bowl and place into the freezer.
After 30 minutes, remove from the freezer, and stir with spoon or fork. If not desired consistency, put back into the freezer and check every 15 minutes. Once it has the texture of ice cream, take out and enjoy!
Love an ooey, gooey, s'more? This homemade high protein ice cream recipe let's you enjoy all the delicious flavors and provides a hefty dose of protein!
Ingredients:
1 cup almond milk or skim milk (I used vanilla Almond Breeze)
1 cup fat free cottage cheese, or plain low-fat Greek yogurt
3 tbsp. cocao Vital Whey protein powder
2 tbsp. Marshmallow fluff OR 2 tbsp. light cool whip
1 tbsp sugar alternative [monk fruit, stevia, etc.] to taste
Graham cracker square, crushed into fine crumbs
Optional Toppings: fat free whip cream, 10 mini marshmallows, and/or 2 squares Hershey's chocolate, roughly chopped (to garnish).
Directions:
Combine all of the ingredients (except for the graham crackers) in a blender (or food processor), and blend until smooth.
Pour mixture into ice cream maker. Let the ice cream churn for about 20-25 minutes, or until it becomes a firm 'frozen yogurt' texture. Scoop ice cream into individual dishes and add the crushed graham cracker over top, or swirl into ice cream if prefer. (You may also add other toppings, if desired).
Serve immediately and enjoy!
Note: You can also scoop ice cream into a Tupperware, and freeze for up to one hour, for a firmer 'ice cream' texture. However, don't let ice cream freeze for longer than one hour, or it will become an ice block! If it does become harder than you would like, you can always put the Tupperware in the microwave for about 30 seconds to defrost to desired texture.
So now that you have some great homemade high protein ice cream recipes to try, whip out your food processor, purchase some protein powder and start blending up your own recipes. Your muscles and your sweet tooth will thank you for it.
Latest posts by Kade Brittain
(see all)