Whey Protein Recipes
Below is our ever-growing collection of whey protein recipes generated by the incredible Well Wisdom team and those who love and use our product, like yourself. Each of these delicious whey protein powder recipes is uniquely designed with a specific nutrition goal in mind, as well as a fantastic new flavor combination that you may have never thought of before. 
Some of our whey protein recipes can be as simple as three ingredients for a quick on-the-go smoothie or for a healthy afternoon snack. We have also created some recipes that are complex enough to be a full meal-replacement shake that you can use as an easy-to-prepare and nutritious meal alternative.  
We designed these whey protein shake recipes with you in mind. Each of them is crafted or hand selected from our customer-created recipes to provide an unexpected flavor experience. We also keep in mind your convenience when developing and selecting recipes because we want to show you that quality nutrition can be simple, easy and delicious.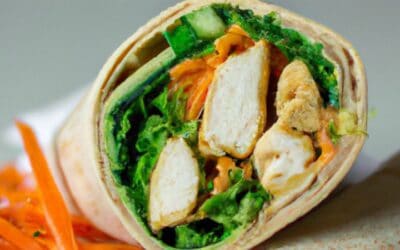 IngredientsFor the wrap: ½ Cup Egg whites (from 4 large eggs) 1 Scoop Natural Vital Whey (20 grams) 1 TSP Coconut flour Pinch of salt For the filling: 3 oz Shredded rotisserie chicken 2 TBSPs Hummus ½ Cup Shredded romaine ¼ Cup Shredded carrots ¼ Cup Cucumber slices ¼...
To provide feedback on your favorite recipes or share your own recipe with the Well Wisdom team, feel free to submit your recipe HERE.
Mixing Guidelines for Vital Whey, ImmunoPro and Bioactive Colostrum:
To avoid denaturing the fragile protein components within the Proserum® whey or Bioactive Colostrum, avoid mixing with the following:
High temperature liquids (hot coffee, tea, etc)
Highly Acid items (citrus fruits or juices, kefir, etc)
Solid food* (we recommend taking your whey either 15 minutes before or after consuming solid food)

*mixing solid foods into a smoothie is fine and should not cause any further denaturation
For most of our whey protein recipes, a shaker bottle or blender are listed as an ideal tool for mixing. Either of these methods are approved for use with our protein without issue
Mixing Guidelines for Glut Immune
Our unique covalent-bonded glutamine is shelf stable and not quite as sensitive to denaturing as our whey protein products. This means it can be used in any of the following ways (and more) without fear of damaging the proteins:
Combined with any of our other powdered supplements and your favorite sweeteners

or flavors

Used in your favorite smoothies (no barred ingredients)
Cooked into your favorite dishes (mixes great into baked goods or mashed potatoes)