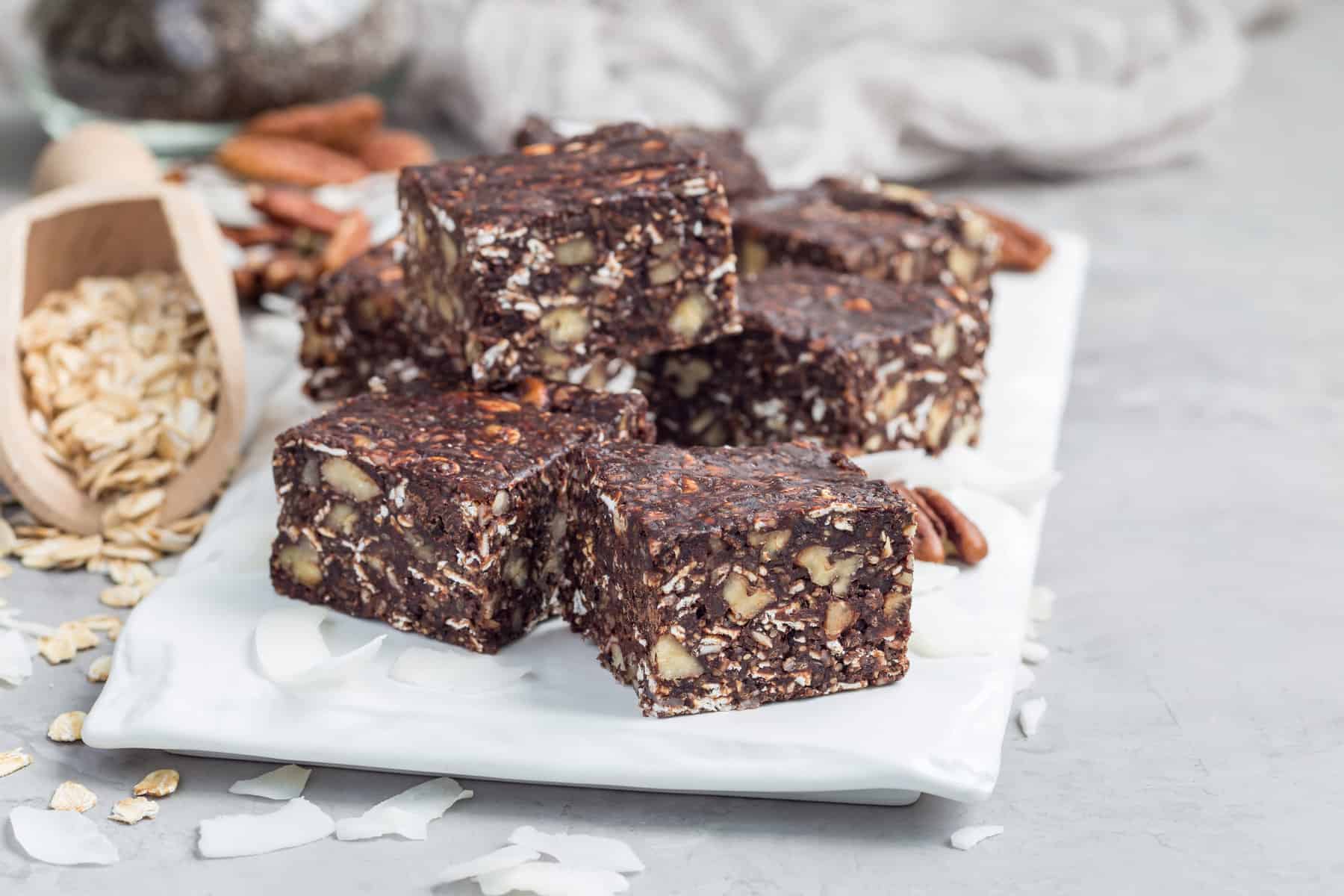 1 Cup Oats
2/3 Cup

 Dates, pitted

1/2 Cup Vital Whey Cocoa
1/3 Cup Pecans
1/4 Cup Cocoa powder
1/4 Cup

 Flaked Coconut

6 Tbsp

Brown Rice syrup

1 Tsp

Vanilla Extract

1/2 Tsp Salt
German chocolate cake, with the incredible combination of coconut and chocolate, is really one of life's most decadent desserts. For your health you probably don't want to indulge in a big slice of chocolate cake every day, but this chocolate nut protein bar recipe  can give you all the flavors that you are craving. For sweetness, this chocolate protein bar recipe  uses our cocoa-flavored protein powder, dates and brown rice syrup. These natural sweeteners will give you a big dose of nutrition along with incredible flavor. Not to mention, this chocolate protein bar recipe is no bake , making it super easy to prepare ahead of time and store for a healthy but delicious sweet treat.
Serving size: 1 bar (Recipe makes 12 bars)
1. Run the oats through a food processor, grinding them to produce a fine oat flour. Use a scoop to measure in the right amounts of cocoa powder and protein powder, and blend once more.
2. Drain the liquid from the dates before adding them into the food processor, and pour in the pecans, coconut, salt, and vanilla. Blend again. Pour this mixture into a bowl and add in the rice syrup. Stir well, then form into bars using your hands.
3. Transfer the bars to a greased cookie sheet, and slide the tray into the fridge. Cut into 12 equal portions and let them sit for about 3 hours before eating, and store in the freezer for up to a month!
Enjoy!
For all Vital Whey Recipes
To minimize potential damage to the fragile protein components, please take the following into consideration:
Avoid highly 

acidic fruits

 or juices (citrus, pineapple, kefir, etc). 
Avoid adding whey to any HOT liquids.
Our whey is minimally processed and it is best to avoid adding excess acid or heat within your recipe.


Latest posts by Kade Brittain
(see all)