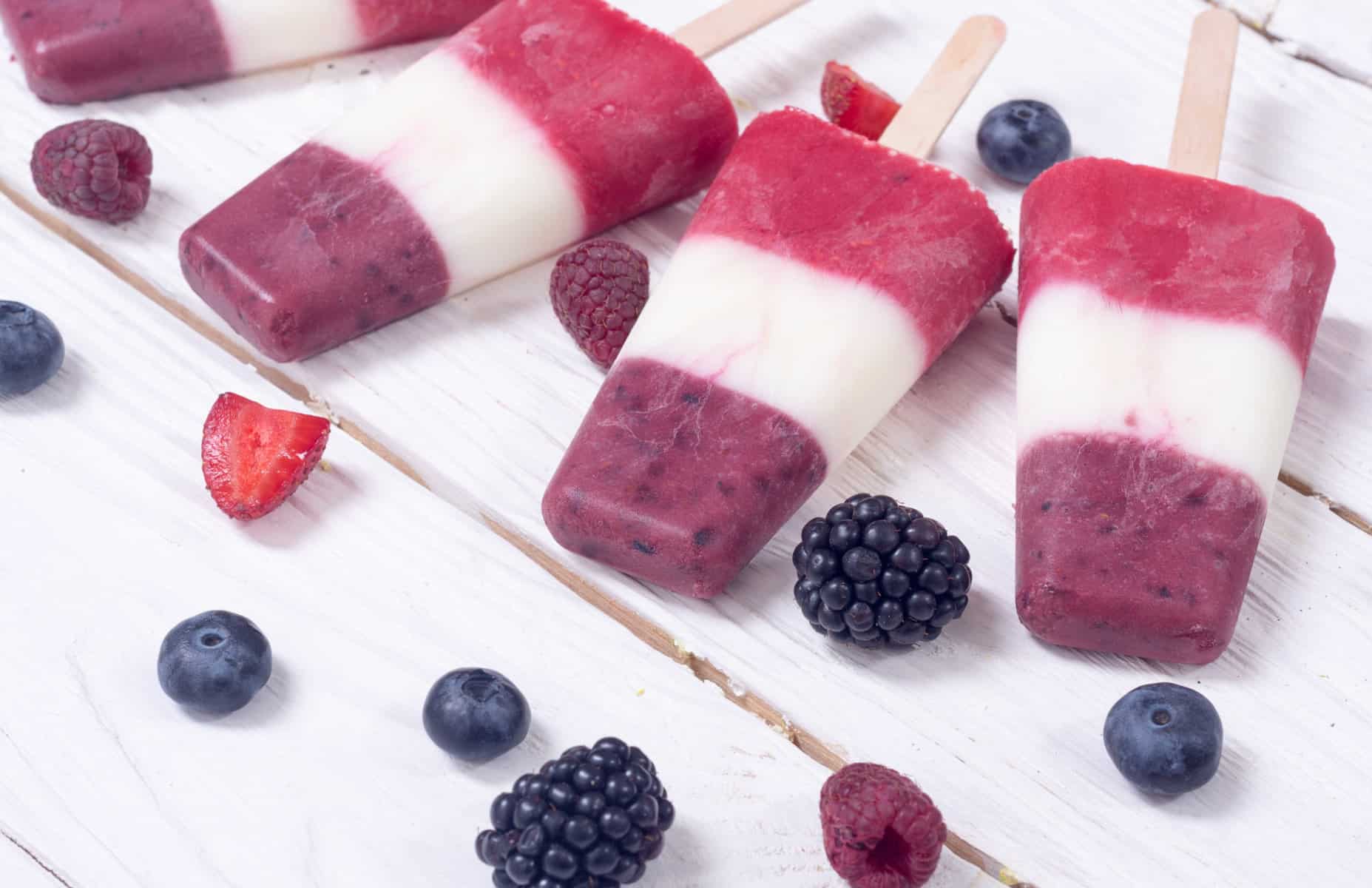 2 Cups Fresh Strawberries
2 Cups Fresh Blueberries
1 Cup Non-Fat Greek Yogurt (vanilla)
3 TBSP

Honey

2 Scoops (40g) Vital Whey Vanilla
Between hot dogs and potato chips, summer gatherings may not always be full of the healthiest food choices. But with a little creativity and planning ahead you can still eat healthy all summer. For example, we created this delicious healthy 4th of July dessert recipe, so you can still enjoy a summer favorite on a hot day. 
These ice pops use frozen berries, which are loaded with antioxidants, for the red and blue section of the pop. The white section is made up of Greek yogurt and Vital Whey vanilla protein powder, for a high protein base. This combination of berries and protein creates a nutrient-dense 4th of July healthy dessert recipe for you to enjoy all summer.
Berries are naturally sweet, so you may want to experiment with the amount of honey you add to the pops, especially if you are trying to keep your sugar intake down. You can also substitute the berries for other fruits like watermelon or kiwis to mix up the flavor. Just use the same layering process to make pops out of other types of fruit. Once you have the methodology down, you can feel free to get creative with whatever healthy 4th of July dessert recipe you come up with!
Serving size: 1 Popsicle
(Assumes a Popsicle mold that makes 8 Popsicles.)
1. In a blender, first puree the strawberries with 2 TSP honey then set aside (makes about 1.5 cups of puree).
2. Then, puree the blueberries with the last 1 TSP of honey then set aside (makes about 1.5 cups of puree).
3. In a bowl, mix Vanilla protein powder into the vanilla Greek yogurt using a fork or spoon. Stir until all the powder has been evenly mixed (no clumps).
4. Layer the popsicles as follows
3 TBSP strawberry puree mixed with ½ TBSP yogurt

1 TBSP yogurt

3 TBSP blueberry puree mixed with ½ TBSP yogurt.
 5. Gently tap the molds on the countertop to remove any air bubbles. Insert the popsicle sticks, and then freeze for at least 6 hours, or overnight.
Enjoy!
Latest posts by WPI Processing
(see all)