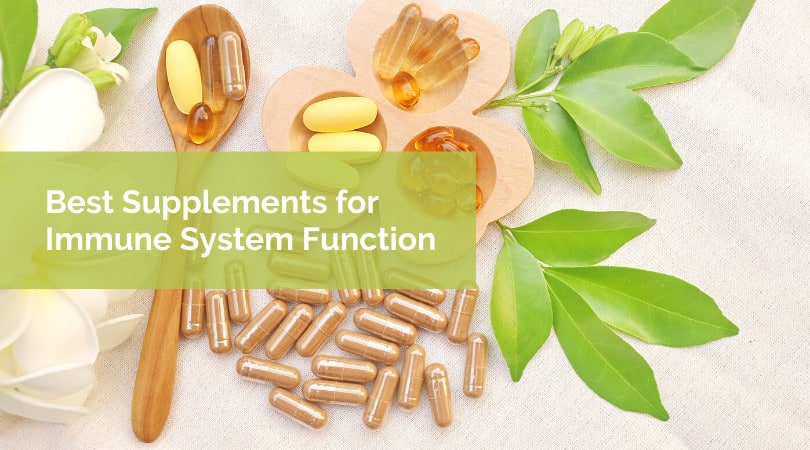 Catching a cold, the flu, or some other illness that is going around can impact your entire life. Not only do you feel awful, but you may have to miss work or miss out on events and activities. The Centers for Disease Control and Prevention estimate that just the seasonal flu alone causes between 9 and 45 million illnesses per year. And the flu is just one illness your immune system has to fight off!
Luckily, there is a lot you can do with your lifestyle when you're well to help support your immune system. A healthy diet, regular exercise, stress management and adequate sleep can all strengthen your immune system, but immune booster supplements can also help. So, what are the best supplements to boost the immune system?
Best Immune System Supplements
When looking for best supplements for your immune system, there are a lot of products out there that claim to support immune function. Before taking any supplements, it is always best to speak with your doctor about the best options for you, especially if you are taking any medications or have any medical conditions. Pregnant or breastfeeding women should also avoid many of these supplements before speaking to their doctors. Some of these supplements can even boost the immune system too much, which may not be beneficial for certain people.
If you do decide to give immune booster supplements a try, here are some of the best supplements for your immune system:
These are just a few of the supplements to boost the immune system you might want to try to support your body during cold and flu season.
But, there is one very important thing to remember: supplements are great, but alone they won't do the trick! Taking supplements will increase your chances of fighting off colds and infections, but if your immune system is suppressed–by stress, an unhealthy diet or lack of sleep–it will be unable to fight properly. For optimal immune function, you need to be living a healthy life.
Also, alongside taking care of your body, you need to practice prevention in your daily routine. This comes from good hygiene, especially keeping your hands clean and out of your face. One of the most important ways you can avoid getting contagious viruses is by maintaining healthy hand habits. Paired with this, avoid being in densely populated areas to minimize your exposure to others that might be sick themselves.
Eat the right foods to get your immune system back to full strength and do plenty of exercise (another immune-boosting remedy). Add these best supplements for the immune system to your healthy regimen, adjust your daily habits to reflect health consciousness, and you'll have the immunity needed to fight off those invaders!
Latest posts by Kade Brittain
(see all)