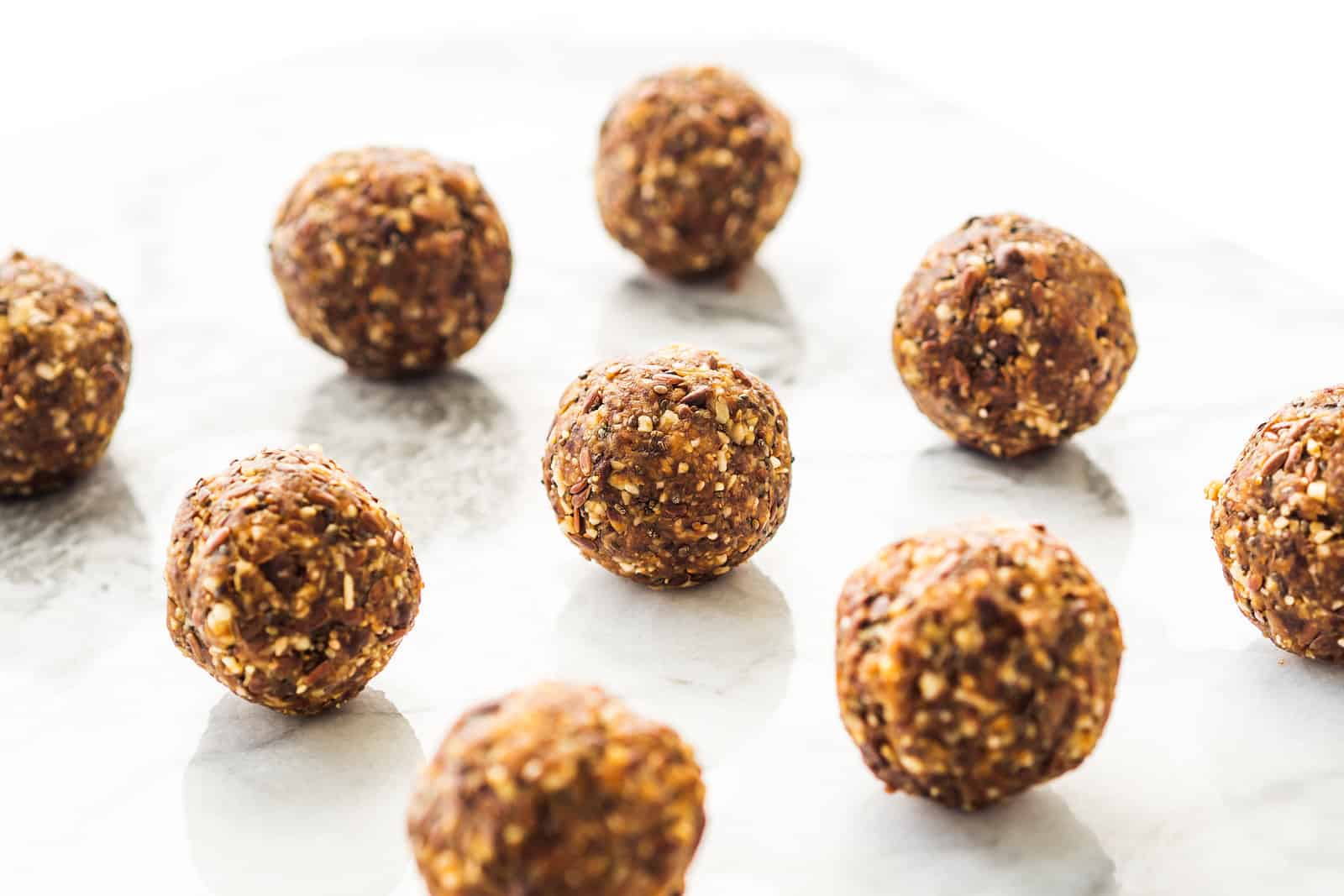 6 Tbsp Creamy Peanut Butter (or alternative)
6 Tbsp Milled Golden Flaxseed
4 Tbsp

 Agave Nectar
Serving Size: 1 ball (Makes 10 balls)
1. Add all ingredients into a bowl and mix well.  Consistency should be that of playdough.  You don't want to cook it, just warm it through so you can stir it. Once mixed, start forming into 1.5" balls — or alternatively you could also push mixture into a small dish.  Let the balls or bars sit until cool, and form shape. Should make approximately 10 balls or bars.
2. These protein balls should keep in the fridge for up to one week, or in the freezer for up to 3 months — just place them in a re-sealable bag.  I keep mine in the freezer and take them out whenever the kids need a quick snack, or before or after my workout!  This is also a very versatile recipe —  you could use our Vital Whey Vanilla or Cocoa whey protein or switch out the flaxseed for chia seeds!
Enjoy!
Looking for a portable, tasty snack to fuel a killer workout? These peanut butter protein balls  are an incredible option. Created by one of our amazing sponsored athletes, Natalie Woodcock, this peanut butter protein balls recipe  was designed with fitness in mind. 
The great thing about these peanut butter protein balls  is that they are incredibly versatile. Once you have the basic recipe mastered, you can make several substitutions to change the flavor or use up ingredients you already have on hand.
Peanut butter is dense in nutrients and rich in calories. It is added to this recipe to provide sustained energy and hold the peanut butter protein balls  together. If you don't like peanut butter or are allergic, you can always substitute another nut butter such as almond, walnut, or sunflower butter. The key is to use a nut or seed butter that isn't too dry so that it can blend easily with the other ingredients.
Flax seeds provide anti-inflammatory plant-based omega-3 fats to help reduce muscle soreness after your workout. They also give you a hefty dose of fiber to keep your gut healthy. Feel free to substitute or even add some chia seeds for the same benefit.
Any energy ball needs a carbohydrate source, as carbs give you energy for your workout. Agave nectar is a low-glycemic carbohydrate that will provide you with sustained energy to burn. You could substitute honey or maple syrup if you prefer.
Finally, no peanut butter protein balls recipe  is complete without protein powder. This version uses our unflavored Vital Whey Natural, but you could always add a bit more flavor by using our cocoa or vanilla flavored protein powder instead.
The best thing about these peanut butter protein balls is that you can make them ahead, then just grab a couple before you hit the gym. They can be kept in the fridge for up to a week or in the freezer for three months. Having these protein balls on hand before you hit the gym will ensure that you are fueled and ready to crush that workout.
For all Vital Whey Recipes
To minimize potential damage to the fragile protein components, please take the following into consideration:
Avoid highly 

acidic fruits

 or juices (citrus, pineapple, kefir, etc). 
Avoid adding whey to any HOT liquids.
Our whey is minimally processed and it is best to avoid adding excess acid or heat within your recipe.
Latest posts by Kade Brittain
(see all)