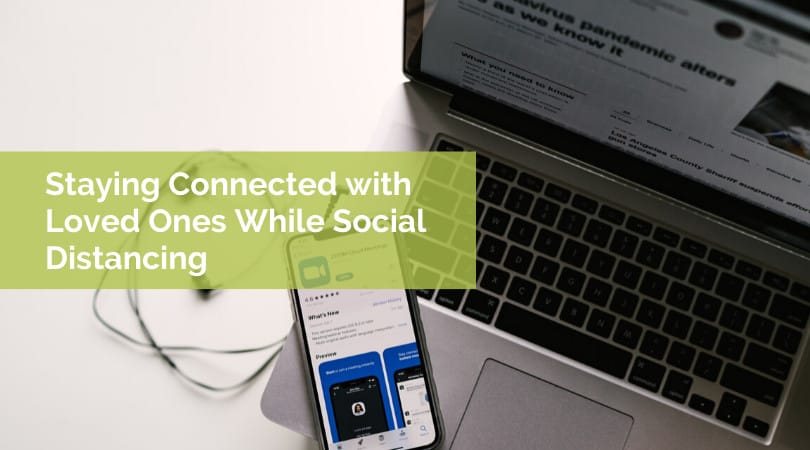 Social distancing measures have left many of us isolated from our friends and family. While it's relatively simple to find things to do when you're alone, the thing that most of us are probably missing are our social connections. Happy hour with friends or a group workout class seem like things of the distant past. But, humans need social connection, so you might be looking for how to stay connected to friends and family during coronavirus self-isolation. Luckily, technology provides us with many different methods to stay in touch.
How to Stay Connected to Family, Friends and Colleagues During Quarantine
Social connection is critically important for your mental health and well-being. Loneliness and social isolation may be just as bad for your physical health as smoking or obesity. But, with a little bit of creativity you don't need to be lonely during quarantine. Here are a few of our favorite suggestions for how to stay connected to friends and family even when you are apart:
Video chat. This is the easiest with so many methods of chatting available at our fingertips. FaceTime, Zoom, Google Hangouts or Skype are all different ways you can see and talk to your friends and family any time.
Play an online game. Games are not just played alone anymore. Many online games allow you to compete against your friends or even chat while playing.
Host a watch party. Dying to share your favorite movie or TV show with you friends and family? Netflix Party allows you to watch shows and movies together and chat about them in real time.
Start a virtual book club. You might be finding yourself with more time to read right now, so why not start a book club? Or if your friends or family aren't into reading the books you like, Goodreads offers many online book clubs for different interests and genres.
There are still ways you can help your community and feel connected to the outside world during quarantine, without leaving your home. We gathered a few of our favorites in this blog post about how to help during the pandemic.
Take a virtual tour. Have you ever wanted to visit the world's greatest museums or parks? Museums around the world are offering virtual tours. Maybe you will find yourself walking the halls of the Louvre in Paris one afternoon? Google Earth also has virtual tours of national parks.
Workout together virtually. If you can't exercise with your favorite friends at the gym anymore, why not set up a virtual workout date? Many online fitness platforms, like Peloton and Daily Burn are offering free trials of their programs. Challenge your friends to show up and help you stay in shape while at home.
It's amazing how technology helps us stay connected. The important thing is to regularly schedule opportunities to socialize during this time, in the same way you would normally schedule social events.
Even with all these virtual opportunities to connect, we may still feel lonely from time to time, especially if we are quarantining alone. Understand that there is a difference between being lonely and alone. If you are alone, consider making a list of things that bring you joy at home. A good book, a fun game or a funny movie can make you feel connected even if you don't have anyone to talk to.
This time of quarantine and uncertainty is challenging for all of us in different ways. Humans are social animals and it is difficult to be told to remain apart. But, there are many ways you can make the best of the hours you have alone and still remain connected to your friends and family.
References
Holt-Lunstad J, Smith TB, Baker M, Harris T, Stephenson D. Loneliness and social isolation as risk factors for mortality: a meta-analytic review. Perspect Psychol Sci. 2015;10(2):227-237.
Latest posts by Kade Brittain
(see all)