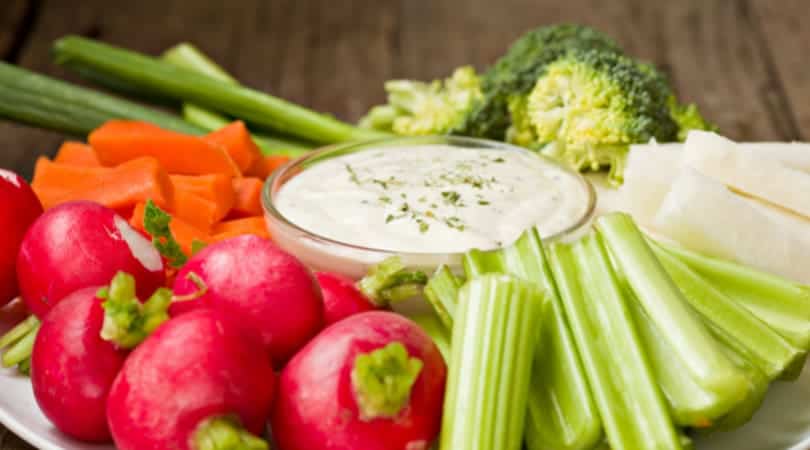 1 Cup Greek Yogurt

1 TBSP Chives

1 Scoop Vital Whey Natural

1 TSP Fresh Lemon Juice

½ TSP Dried Dill

½ TSP Garlic Paste

Salt and pepper to taste
Do you need more protein in your diet, but certain types of protein do not sit too well with your sensitive stomach? Are you looking for a tasty alternative to boost your protein intake without adding more fat to your diet? 
Why not try a high protein dip for veggies as a delicious snack or appetizer? This Greek yogurt veggie dip recipe uses our Vital Whey Natural unflavored protein powder combined with Greek yogurt to provide 10 grams of protein per serving. 
Greek yogurt is naturally high in protein and depending on the type you choose, it can also be low in fat. Vital Whey is also low in fat. This Greek yogurt veggie dip recipe is a great option for those who want more protein without the added fat commonly found in other protein sources.  
Don't worry, this Greek yogurt dill dip is also super flavorful! The Greek yogurt and Vital Whey are seasoned with dried dill, chives, lemon, and garlic paste to create a Mediterranean-like flavor you will absolutely love. 
Serve this Greek yogurt veggie dip with your favorite cut up vegetables, crackers, or sliced pita bread. Or use it as a topping for grilled fish or a salad for an extra dose of protein. 
Serving size: 1 dipping bowl (makes 4)
In a mixing bowl mix Greek yogurt and Vital Whey Natural.

Once mixed well mix in chives, dill, garlic paste and lemon juice. 

Add in salt and pepper to taste.

 

Cover and let set to chill for 3-4 hours.  This will help the flavors mature.
Kitchen Notes:  If you don't have garlic paste at home it's very easy to make with a garlic clove.  First finely chop up the garlic clove and add a drop of olive oil.  Once this is all chopped up well, run the side of the knife blade over the garlic, olive oil mix and press against the cutting board and scrap in an upward motion.  Doing this about 5 to 6 times until the chopped garlic and olive oil becomes a paste. 
This veggie dip keeps well in the refrigerator for a week.
Latest posts by Kade Brittain
(see all)