Vital Whey® Cocoa 2.5 lb Bag

15g Protein per serving, 3.5g BCAAs
Just Five Ingredients!
Individual Lots Tested for Heavy Metals and Contaminants
Non-GMO Project Verified, Vegetarian
Rich in Immune Supporting Protein Fractions
Bulk Cocoa Grass Fed Whey Protein Powder Benefits
Vital Whey® is made with Proserum® The Finest Whey Protein® available. The milk for this product is derived from cows that are grass-fed and graze year-round on natural pastures. It is a proprietary, native, undenatured whey protein® that is produced to maintain the full range of all the fragile immune-modulating and regenerative components naturally present in fresh raw milk.
Many protein powders are extensively processed during production, denaturing (destroying) many of the active proteins, eliminating many of the immune-modulating benefits. Proserum is minimally processed to maintain the maximum biological activity and immune-modulating components found in fresh milk. Minimal processing means it contains the proteins necessary to support optimal immune function, such as immunoglobulins, lactoferrin, serum albumin, active peptides and growth factors.
Our bulk bag cocoa grass fed protein powder is GMO-free, hormone-treatment-free, pesticide and chemical-free. To add flavor and sweetness to the whey, we use only monk fruit extract, a plant-derived non-caloric sweetener. The chocolate taste comes from real cocoa and not flavoring. No artificial ingredients or sweeteners are added, ever.
Great Tasting Natural Bulk Bag Chocolate Grass Fed Whey Protein
Vital Whey® is a delicious, 100% natural nutritional protein perfect for adults and children.
In addition to its many health-promoting properties, it is a great way to manage hunger and sustain energy levels. Vital Whey® is the best choice for the parent in search of the healthiest snack for themselves and their children, as well as the athlete looking for the perfect pre and post-workout supplement, or anyone interested in optimal health. When you try it, you will agree it is the Vital Whey to health.
Optimal Protein Supplement
Provides all the essential amino acids in correct balance*

Excellent source of critical branch-chain amino acids, particularly leucine

Supports lean body mass

Contains growth factors and critical proteins to support immune function

Improves muscle strength*
Helps with overall health and energy levels*
Promotes antioxidant production (Glutathione precursors)*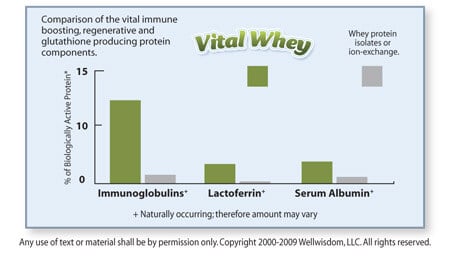 For more information on the differences between Vital Whey® Natural Cocoa and other Well Wisdom whey products click here.
To view our Vital Whey Product Flyer click here.
* These statements have not been evaluated by the Food and Drug Administration. This product is not intended to diagnose, treat, cure, or prevent any disease.
Product Details
2.5 lbs. (1.13kg) 56 servings
Vital Whey products have a 2 year shelf life from the date of manufacture.
Save