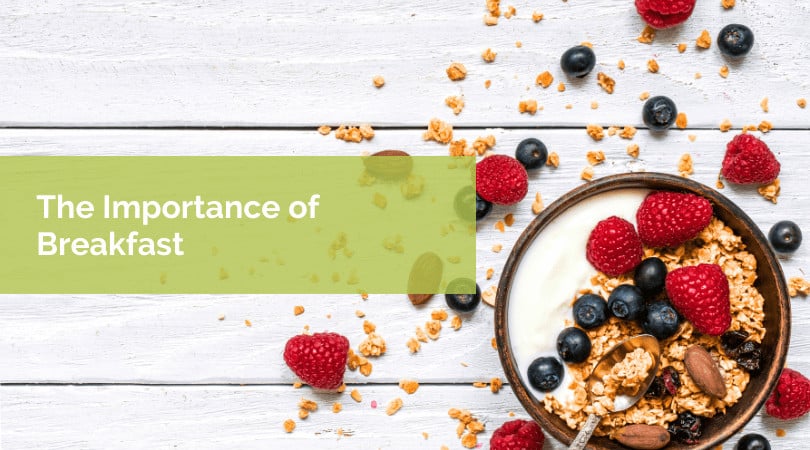 Whether you already have a healthy morning breakfast routine or are rushing out of the house every day with a cup of coffee, you likely have heard that breakfast is the most important meal of the day. But, with the increasing popularity of intermittent fasting, which frequently encourages people to skip breakfast, is it actually that important? Let's explore the importance of eating breakfast and why you may want a regular breakfast routine.
Why is breakfast the most important meal of the day?
Only about ¼ of people skip breakfast regularly, which means most of us are eating at least something in the morning. There are many good reasons for eating breakfast daily. Here are a few of the highlights of the importance of breakfast:
Provides energy to fuel your day
This may be obvious but starting the day by fueling with a solid breakfast provides energy your brain and body can use to accomplish daily tasks. If you skip breakfast, you may find yourself tired, lightheaded, or overly hungry.
Kick-starts your metabolism
Eating breakfast tells the body to start burning fuel for the day, kick-starting your metabolism. Many people believe that breakfast speeds up metabolism, this is not the case. A 2014 study found that eating breakfast did not speed up metabolism, it remained the same with or without breakfast. But, eating breakfast was found to increase thermogenesis or the process of converting energy into heat, particularly when subjects exercised.
Breakfast can help with weight management
People who regularly eat breakfast tend to have a lower body mass index, or weight to height ratio, compared to those who don't eat breakfast. However, this does not necessarily relate to weight loss for those already fighting the pounds. A 2019 meta-analysis of 13 studies on breakfast and weight loss found no association between regularly eating breakfast and losing weight.
Since there is no direct relationship between the lower body mass index of breakfast eaters and weight loss in others, it may come down to the routine itself. A 2010 study found that a high protein breakfast prevented overeating later in the day, which may help with weight management. This means the right foods at the right time may be the winning combination.
Also, breakfast is a great place to get in some additional protein, which can also prevent you from overeating.
May lower your risk of disease
Studies have found that people who regularly eat breakfast not only have a lower body weight, they also may have a lower risk of disease. A breakfast routine has been associated with a lower body fat, improved cholesterol, and better insulin sensitivity. These may translate to a lower risk of cardiovascular disease and diabetes for breakfast eaters.
Helps improve your nutrition
Breakfast is a great meal to include nutrient-dense foods, like whey protein, eggs, fruit, or whole grains. Eating a well-planned breakfast high in protein and fiber can help you meet your daily needs for these important nutrients.
Critical for children
A breakfast routine is particularly important for children. Without adequate nutrition in the morning, children have difficulty concentrating and learning at school. Children who eat breakfast tend to have higher test scores than those who don't. Also, regular breakfast consumption may help children maintain a healthy body weight.
Children have smaller stomachs and may not be able to get all the nutrients they need in just two meals. Schools and educators understand the importance of breakfast for kids, which is why all schools strive to offer healthy breakfast options for all children.
One thing to note about all the research on the importance of breakfast is that most of it is correlational. This means that researchers have identified a connection between eating breakfast and possible health benefits. It is important to note that people who regularly eat breakfast may also have many other healthy habits, which could be the cause of the potential health benefits. 
A Healthy Breakfast Routine
If you don't have a morning breakfast routine, now is a great time to start! A healthy breakfast should be well-balanced and include a high-fiber carbohydrate and protein, just like other meals. It doesn't need to take a huge amount of time to prepare.
Here are a few breakfast ideas:
Whey protein Add your favorite milk, a scoop of whey protein, and a serving of fruit for a quick, on-the-go breakfast.

Protein bar. A protein bar can be a balanced, super fast choice. Rather than purchasing store-bought bars, consider making your own. Our favorite is this Velvety Peanut Protein Bar.

Whole grain toast with nut butter and sliced bananas. This quick breakfast gives you a nice dose of healthy fat, protein, and fiber to start your day off right.

Scrambled eggs and fruit. If you have a bit more time, consider making a few eggs. To make the meal a bit more balanced, add a side of fruit.
If you need more recipes for high protein breakfast ideas, check out our whey protein recipes. Although breakfast isn't a miracle cure for weight loss or a healthier body right away, establishing a routine where your body has adequate fuel in the morning can help you feel better prepared and ready to make better choices for your overall health. 
References
1.Buckner SL, Loprinzi PD, Loenneke JP. Why don't more people eat breakfast? A biological perspective. Am J Clin Nutr. 2016;103(6):1555-1556.
Betts JA, Richardson JD, Chowdhury EA, Holman GD, Tsintzas K, Thompson D. The causal role of breakfast in energy balance and health: a randomized controlled trial in lean adults. Am J Clin Nutr. 2014;100(2):539-547.
Barr SI, DiFrancesco L, Fulgoni VL 3rd. Association of breakfast consumption with body mass index and prevalence of overweight/obesity in a nationally-representative survey of Canadian adults. Nutr J. 2016;15:33.
Sievert K, Hussain SM, Page MJ, et al. Effect of breakfast on weight and energy intake: systematic review and meta-analysis of randomised controlled trials. BMJ. 2019;364:l42.
Leidy HJ, Racki EM. The addition of a protein-rich breakfast and its effects on acute appetite control and food intake in "breakfast-skipping" adolescents. Int J Obes. 2010;34(7):1125-1133.
Hallström L, Labayen I, Ruiz JR, et al. Breakfast consumption and CVD risk factors in European adolescents: the HELENA (Healthy Lifestyle in Europe by Nutrition in Adolescence) Study. Public Health Nutr. 2013;16(7):1296-1305.
Rampersaud GC, Pereira MA, Girard BL, Adams J, Metzl JD. Breakfast habits, nutritional status, body weight, and academic performance in children and adolescents. J Am Diet Assoc. 2005;105(5):743-760; quiz 761-762.
Latest posts by Kade Brittain
(see all)