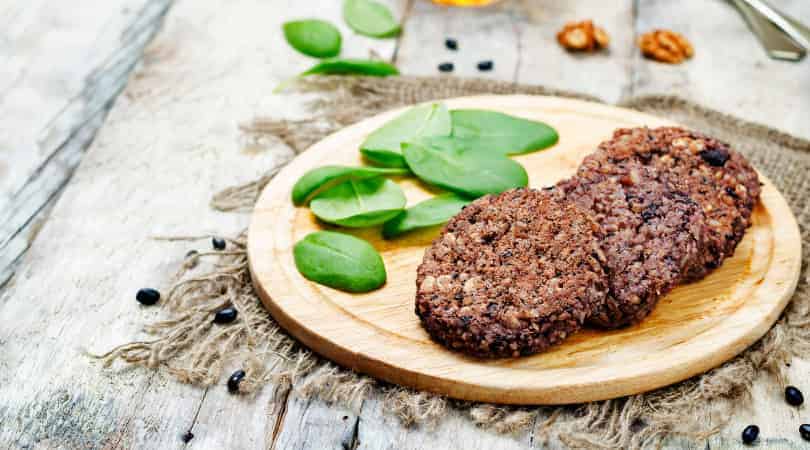 1 Can 30oz Black beans

½ Cup Feta Cheese

¼ Cup Coconut flour

12 Scoops of Glut Immune

5 Garlic cloves

2 Eggs

1 Medium white onion

½ Bell pepper

2 TBSP Ketchup

1 TBSP Extra-Virgin Olive Oil

1 TBSP Worcestershire Sauce

1½ TSP Ground cumin

1 TSP Garlic powder

1 TSP Smoked paprika

Pinch Salt + pepper
Veggie burgers made from beans or other plant-proteins are a great alternative to beef-based burgers. This is why we created this healthy black bean burger recipe to give you an alternative for summer grilling. It is also a great way to get in a bit of protein and fiber, to help fuel your workouts.
This super easy black bean burger recipe obviously starts with black beans. For a bit of flavor, we added bell pepper, onion, garlic, Worcestershire sauce, ketchup and a variety of spices and seasonings.
The coconut flour and eggs help bind the black bean burger patty together. The eggs also add a bit more protein.
To boost the nutrition further, we added 12 scoops of our Glut Immune glutamine supplement. Glutamine helps support immunity, healthy muscles and gut health. There is no meat-based burger that can do all of that!
You can cook this black bean burger recipe on a grill for a toasty flavor or in the oven, if you don't have a grill.
The black bean burger patty is versatile as well. You can make a traditional burger with a bun and other toppings or use it as a protein source for a salad. Get creative!
Serving size: 1 patty (makes 8)
Drain, Wash and pat dry beans. Place beans on a lined baking sheet. Make sure they are evenly spread out and bake for 10-15 minute until they are slightly dried in a preheated oven 325 degrees. Once black beans are done place to the side.

In a large saucepan over medium heat oil, add bell pepper, onion, garlic and cook until softened about 6-7 minutes.

Place bell pepper onion mix into a food processor and add coconut flour, Glut Immune, cumin, garlic powder smoke paprika, feta, eggs, Worcestershire sauce Ketchup, salt and pepper and pulse the mixture. Now add black beans and pulse some more.

With a 1/3 measuring cup scoop out and with wet hands make into a patty,

Line a baking sheet and bake patties at 375 degrees for 10 minutes on each side. Patties need to cook for 20 minutes total.

Add toppings like avocado, cheese, mayo, mustard, buns, fresh or sautéed onions, lettuce, tomatoes and ENJOY!
Kitchen Notes: 
You can cook right away or freeze. If freezing or refrigerating, place parchment paper between each patty.  Keep for 3 months in the freezer.

Make sure you thaw patties out before cooking.

Cooking on stove top with a well-greased pan. Cook for 7-8 minutes on both sides.  If cooking on a grill, place the patty on a well greased sheet of aluminum and grill for 7-8 minutes on each side. 
Latest posts by Kade Brittain
(see all)