Whey protein powder makes a wonderful addition to any weight loss shake or meal replacement drink! Not only does it provide you with a hefty dose of amino acids (which your body needs to build muscle), but it provide calcium, branch chain amino acids, creatine, and a host of other important nutrients. While protein powder shouldn't be your ONLY source of nutrients, it makes a great alternative to a big meal when you want something quick and easy.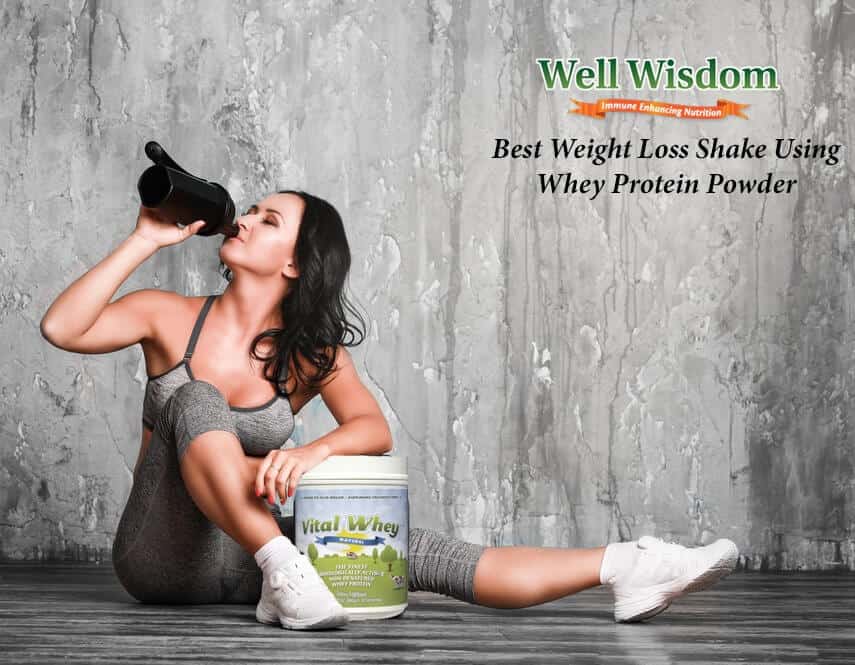 If you're thinking of making weight loss shakes using protein powder, here are a few things to consider:
You need more nutrients. Protein powder delivers amino acids but not much else. To be healthy, you need a balanced intake of protein (amino acids), carbohydrates, fatty acids, fiber, minerals, and vitamins. You can make protein shakes using fruits, veggies, and nut butters to get that balanced intake, but protein powder alone isn't going to be a complete meal.
Calories do count. Yes, even though it's concentrated protein, your protein shake is still going to count toward your daily calorie limit. Make sure to be aware of that when you're planning out your daily meals. A single scoop of protein powder + half a cup of milk will be around 150-200 calories. Factor in the other ingredients (fruits, veggies, nut butters, etc.) to make sure you don't overdo it on calories. In the end, weight loss often comes down to quantity of calories as well as quality of nutrition.
Drink it quickly. Given how busy your life is, it's awesome to be able to throw a protein shake together in a few minutes before heading out the door to work. But take note: if you don't drink the shake within the first hour or so, the blended nutrients are going to degrade and your protein shake could taste off. The best time to drink the protein shake is right after making it, while it's still cold and the nutrients are still intact.
Think about suppressing your hunger. When making protein shakes for weight loss, think about not only giving your body the nutrients it needs, but also shutting down your appetite. Protein is excellent for suppressing hunger, but you'll also need a bit of fiber and some healthy fatty acids to signal to your brain that you're full. That's where veggies and healthy fats (like avocado's or nut butter) come in handy!
How to Find the Right Whey Protein Powder for Your Weight Loss Shakes
When shopping for protein powder:
Look for low-carb options. Less sugar is better for weight loss, and will help you avoid over-consumption of carbohydrates.
Find protein powder that mixes easily and doesn't end up all gritty and grainy after blending.
Choose a product that contains as few ingredients as possible. Whey is best in its natural state and doesn't need a host of chemicals and flavorings.
Think about how much you're willing to spend on a high quality protein powder. Factor in the cost-per-meal when choosing protein powder as a meal replacement option.
Recipes for Whey Protein Powder Weight Loss Shakes
If your goal is to lose weight, here are a few whey protein powder shakes you can make quickly and easily:
Strawberry Almond Protein Shake:​
Dice up a cup full of strawberries, and throw them into the blender with half a cup of water, half a cup of almond milk, a scoop of vanilla-flavored protein powder, and two tablespoons of your favorite homemade granola. Blend well until properly combined, then add ice and puree to crush the ice.
Drink for a delicious, fruit-heavy breakfast choice!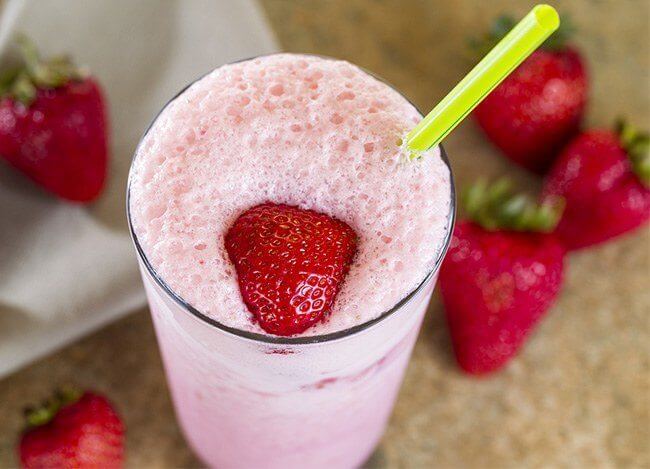 Decadently Healthy Weight Loss Shake
Add a scoop of protein powder into ¾ cups of milk and ¼ cup of water in the blender. Drop in a handful of bittersweet chocolate (70% or higher cocoa content) or cocoa nibs. Scoop in a single tablespoon of peanut butter or almond butter, add in some ice, and blend.
The result is something that tastes like Reese's Peanut Butter Cups, but is still totally 100% healthy!
Veggie-Heavy Green Drink
Use your hands to tear a bundle of spinach into small pieces, and add them into the blender with a cup of orange juice, a scoop of unflavored whey protein powder, and a stick of celery. Blend until properly pureed, then add in ice to make the drink deliciously chilled.
When you taste it, it will be a tropically delightful green shake that delivers as much fiber and minerals as amino acids.
Orange Julius
Pour ¼ cup of orange juice into ¼ cup of water and ½ cup of milk, and add in a scoop of vanilla or orange-flavored protein powder (your choice). Throw it into the blender with some ice and blend until you get a delicious Vitamin C-rich drink!
The Nutrient Bomb Smoothie
Mix half a cup of water with half a cup of orange juice in the blender, with a scoop of your favorite vanilla or unflavored protein powder. Drop in 1/3 of a cup of frozen berries (blueberries, raspberries, or berry medley), along with ¼ of a peeled apple and a cup of fresh spinach. Make sure to add in ice, puree until smooth, and serve.
This delivers a hefty dose of fiber, antioxidants, and minerals that will have your body working like a champ all day long!