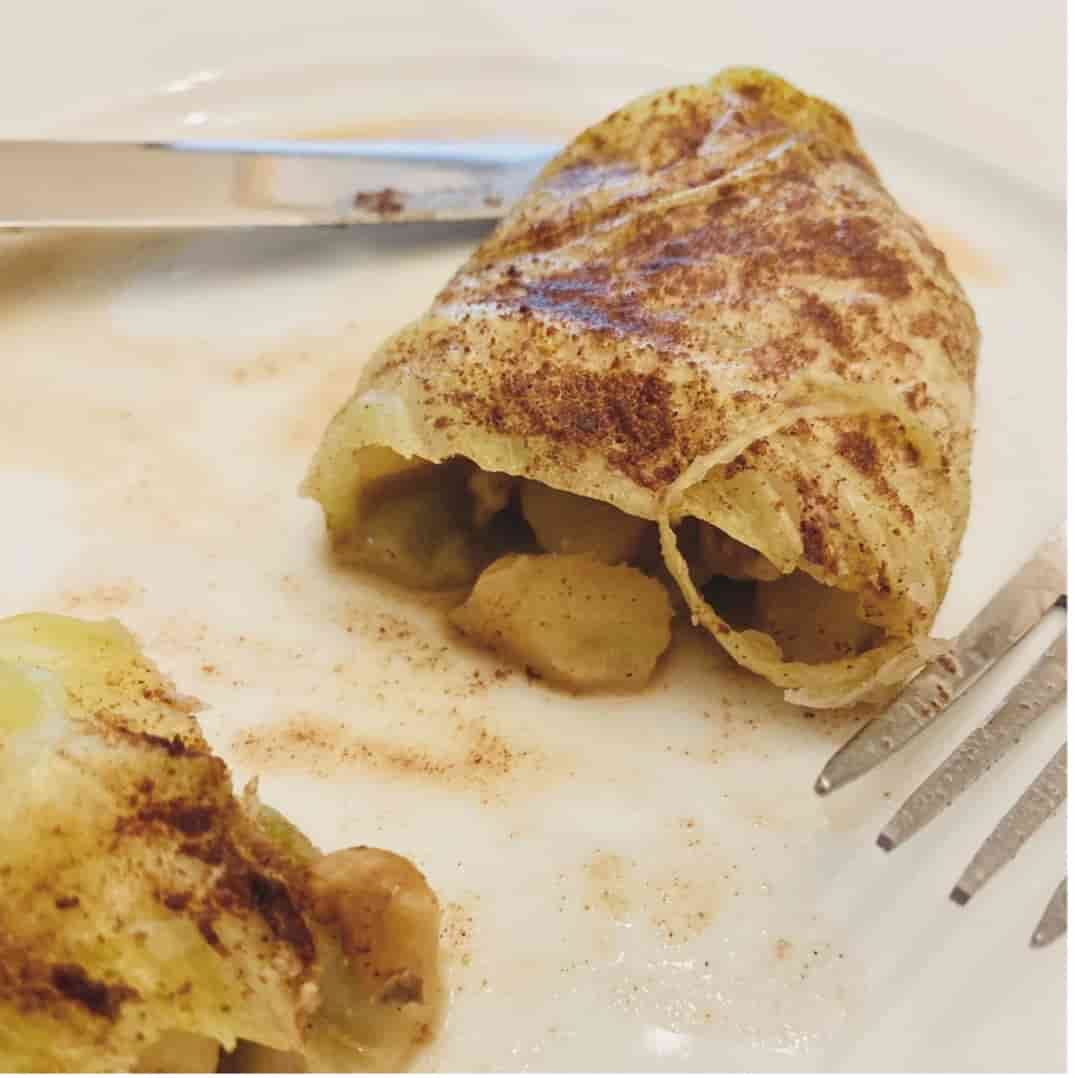 Filling
1 Whole Apple

1 Whole Pear

6 Scoops Glut Immune

1/4 Cup Chopped Walnuts

1/4 Cup Monk Fruit Maple Syrup

1 TSP Cinnamon

1 TSP Vanilla Extract

Pinch Salt
Cabbage Head Toppings
1 TBSP Butter

1 TBSP Monk Fruit Sugar

1/2 TSP Cinnamon
 Have you ever tried making a cabbage pastry? Yep, we are talking about the vegetable cabbage that looks like lettuce, but firmer. Cabbage leaves are a neutral tasting veggie that can be used in a variety of versatile ways, particularly to create yummy desserts with hidden vegetables.
This cabbage roll recipe is simply cabbage leaves stuffed with apples, pears, walnuts and a few seasonings. We used Monk fruit sweetener in our healthy pastry recipe to keep the carb and sugar content low.
We also added our Glut Immune glutamine supplement to the recipe. Glutamine is an amino acid that helps support optimal digestion, immunity and healthy muscles.
Usually glutamine supplements are made from animal sources, but Glut Immune uses vegan wheat berries instead. It helps add nutritious glutamine, while keeping this cabbage roll recipe 100% vegan. This also means that GlutImmune has a lower carbon footprint, compared to other glutamine supplements that are made from animal sources.
What you end up with is a delicious vegan pastry recipe that is also low in carbs, but high in fiber. If you are not watching your carbs too closely, you make it even more delicious by topping it with a coconut based non-dairy ice cream or a dollop of whipped cream. Yum!
Serving size: 1 Pastry (makes 6)
Peel, core and chop apple and pear into small bite size pieces and place in a large bowl. Add chopped walnuts, pinch of salt, 1 tsp of cinnamon, Glut Immune, Monk fruit Maple of Flavor Syrup and vanilla extra, mix well and set aside.




Cut out the core of your cabbage and please be incredibly careful. Place the cored cabbage in a pot of boiling water. After about 3-4 minutes the leaves will become soft enough for you to be able to remove them from the cabbage ball.  Place the leaves in a colander and rinse with cold water.    




Now you are ready to roll your cabbage rolls into a burrito form. At the end where the cabbage was attached to the core add your filling.  Fold over the sides and then roll the cabbage leaf up.




Put it into a greased baking dish. Spread each leaf with butter and sprinkle with monk fruit sugar and cinnamon.




Cover and Bake at 350 for 20 minutes. Remove from the oven, uncover and place the bake in the oven for another 20 -30 minutes uncovered until the start to golden.




You can serve warm or cold but definitely recommend topping with our whipped cream recipe or with ice cream. Enjoy!
Latest posts by WPI Processing
(see all)