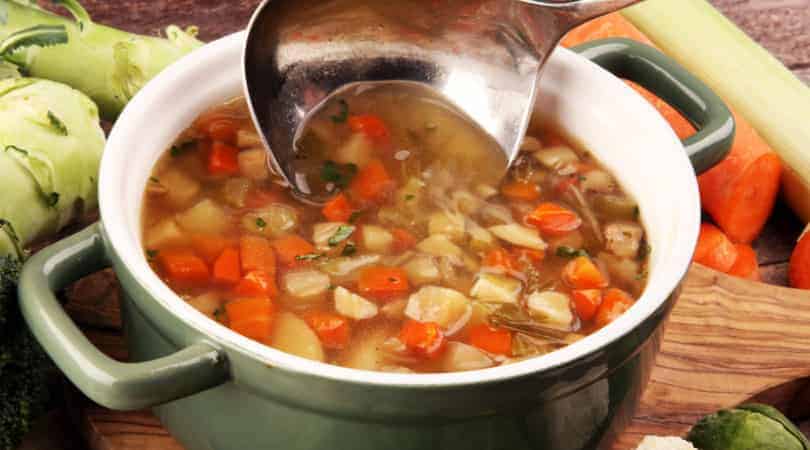 4 Whole Celery Stalks (cubed)

3 Whole Carrots (cubed)

2 Whole Yams (cubed)

2 Whole Leeks (diced)

10 Scoops Glut Immune

4-6 Cloves Garlic (minced)

2 Whole Bay leaves

2 TBSP Extra virgin olive oil

1 TBSP Tuscan seasoning

1/2 TSP Smoked paprika
Looking for the most delicious, healthy veggie stew recipe? Look now further than our vegetable stew recipe with Glut Immune. We really think this is the best vegan stew recipe out there because the Tuscan Seasoning and smoked paprika really take the flavors to the next level.
The orange veggies, like yams and carrots, add a hefty dose of beta carotene, critical for vision and immune function. Celery and leeks are loaded with vitamin C, minerals and a hefty dose of fiber. These veggies work well together to create a delicious, healthy veggie stew recipe, but you can add any others you see fit. The more the merrier when it comes to veggies!
As if the veggies weren't  packing enough nutrition, we also added 10 scoops of our Glut Immune glutamine supplement to the stew. Glutamine is an amino acid that helps support immunity, strong muscles, intestinal health and brain function.
There is no question that eating a plant-forward diet is a great way to practice more sustainable eating and boost your nutrition. A common misconception is that eating more plants means you have to cut out all meat, this is not true!
If you want to add meat to this delicious vegetable stew recipe, go right ahead! You are still getting the benefits of all the yummy veggies in the stew.
Serving size: 1 bowl (makes 4)
Wash all your vegetables well before cutting.


In a large pot or Dutch Oven add olive oil and leeks. Once leeks are golden add minced garlic and cook for another minute. 


Add carrots and Tuscan Seasoning and sauté for 2-3 minutes.


Add celery, yams, salt, pepper, smoked paprika and mix well.


Add bay leaves and 4 cups of vegetable broth.


Withdrawal about ½ cup of the broth. You will want to mix Glut Immune and broth separately from the main pot. (We mixed it in a blender for better consistency.)


When the glut immune and broth are mixed well add back into the pot. Bring to a boil.


Then reduce heat to simmer for 20-30 minutes until vegetables have softened.


Serve warm.
Kitchen Notes:
At Well Wisdom we like to top this with diced avocado, fresh lime juice and cilantro or add a dollop of sour cream.  If you need more protein go ahead and add shredded roasted chicken on top.  This is a great recipe for the family.
The smoked paprika kicks it up a notch and gives it a warm smoky flavor but is not required so you are welcome to leave it out.   
Latest posts by WPI Processing
(see all)