Protein shakes aren't your only option for getting more protein in your day. There are so many delicious things you can do with whey protein powder: add it into your homemade breads, pasta sauces (with unflavored powder), or even bake them into cookies and make a whey protein cookies! Whey protein cookies are the perfect combination of sweet treat and health food. They provide a hefty dose of protein and a bit of carbs to replenish energy burned during an intense workout. They're very good to have on hand if you want a quick and easy post-workout snack.
Here are the few best recipes for whey protein cookies that you can follow:
Chocolate Protein Biscotti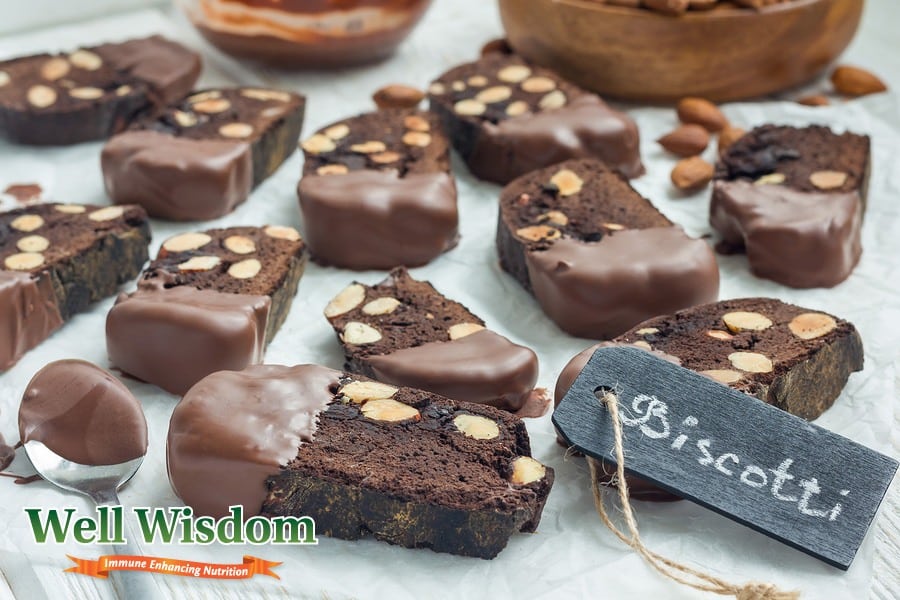 ​Thanks to the egg whites, Greek yoghurt, and whey protein powder, these are loaded with important amino acids. However, they're also rich in antioxidants (from the dark chocolate) and a good option for replenishing your energy.
Ingredients: For these cookies, you will need:
6 egg whites
1/2 cup of unsweetened applesauce
1/2 cup of low-fat plain Greek yogurt
1 1/2 cups of oat flour
2 scoops (1/2 cup) of chocolate-flavored whey protein
1/2 cup powdered peanut butter
1/2 cup of unsweetened cocoa powder
1 teaspoon of baking soda
3/4 cup of Stevia
1 teaspoon of salt
2 tablespoons of mini bittersweet chocolate chips
Preparation:
Set the oven to preheat to 325 F.
Mix the wet ingredients in one bowl, and the dry ingredients in a separate bowl. Once they are properly mixed, combine them into the same bowl. Fold in the bittersweet chocolate chips at the end.
Spray a bit of non-stick cooking oil onto a baking tray. Spread the dough across the pan, forming a sort of log shape. Try to keep the mixture as evenly spread as possible.
Set the cookies in the oven for 25 minutes, then remove and let rest for 10 minutes. Turn the oven down to 300 F while the cookies are resting.
After 10 minutes of resting, use a knife to cut the log into equal slices. Place the slices on their side and set them back into the oven to bake at 300 F for 25 minutes. Then after 25 minutes, remove from the oven, flip onto the other side, and continue cooking for 25 minutes.
You should end up with dry, crisp biscotti.
(Recipe courtesy of Dashing Dish)
No-Flour Chocolate Protein Cookies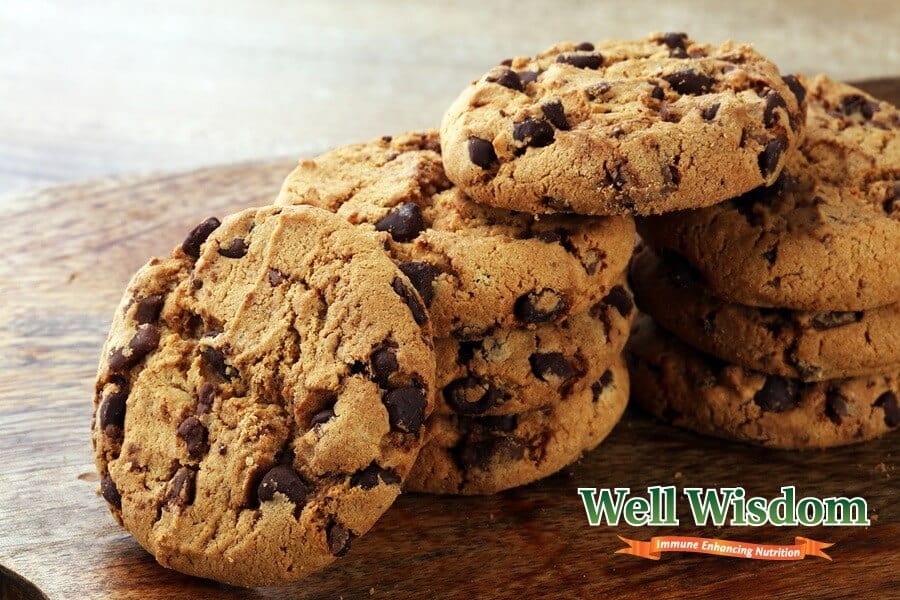 Make these bad boys if you want to keep your carb intake low but still need something delicious as a post-workout snack. The lack of flour means they're low-glycemic and great for a low-carb diet.
Ingredients: For these cookies, you will need:
1/4 cup of unsweetened cocoa powder
1/4 teaspoon of ground cinnamon
2 scoops (1/2 cup) of chocolate-flavored whey protein powder
1 1/2 cups of cooked chickpeas
1/4 cup + 2 tablespoons of agave nectar
1/2 cup of natural almond butter
5 pitted dates
1/4 cup of warm water
1 tablespoon of vanilla extract
2 tablespoon of ground flaxseed
1 teaspoon of baking powder
1/2 cup of egg whites
1/3 cup of unsweetened shredded coconut
Preparation:
Set the oven to preheat to 350 F.
Put all of the ingredients aside from the shredded coconut into the food processor. Blend until smooth. If necessary, stop occasionally and scrape the sides to ensure all the ingredients combine properly.
Place a frying pan on the stove, and set it to medium heat. Toast the shredded coconut until a light golden brown. Add the toasted coconut into the food processor and pulse to combine with the other ingredients.
Spread parchment paper over a baking tray. Scoop the batter into 14 equally-sized piles on the baking sheet. And place the tray into the oven to bake for 24 to 26 minutes, then let the cookies cool on a wire rack before eating.
(Recipe courtesy of Oxygen Mag)
Tangy Chia Seed Protein Cookies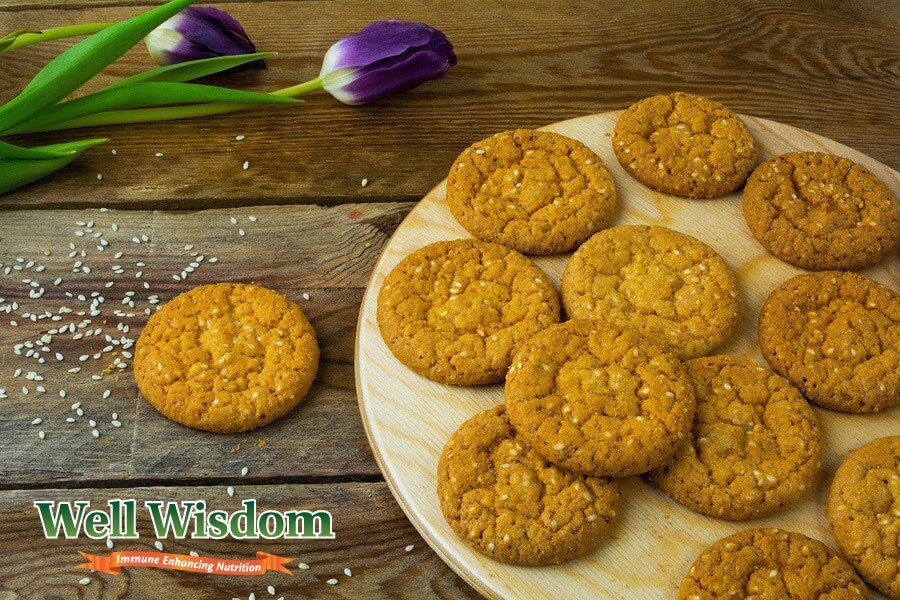 Everyone loves a poppyseed lemon muffin, which combines the tangy flavors of citrus with the high fiber of poppy seeds. With these cookies, you replace the poppyseeds with chia, a seed that is higher in protein as well as fiber. Definitely a must-have if you want delicious post-workout goodies!
Ingredients: For these cookies, you will need:
1/4 cup (28g) of coconut flour
2 scoops (84g) of vanilla-flavored whey protein powder
3/4 teaspoon of baking powder
1/2 teaspoon of xanthan gum
1/4 teaspoon of salt
1 tablespoon (15g) of chia seeds
1 tablespoon (3g) of lemon zest
1 1/2 tablespoons (21g) of coconut oil or unsalted butter
1 pc. large egg
1 teaspoon of vanilla extract
3 tablespoons (45mL) of freshly squeezed lemon juice
1/4 cup (60mL) of agave
2 tablespoons of Swerve
2 tablespoons of Truvia
Preparation:
To begin, whisk the coconut flour, baking powder, protein powder, chia seeds, salt, xanthan gum, and lemon zest together in one bowl. In a separate bowl, Mix the egg, vanilla, and coconut oil. Add the agave and lemon juice to the wet ingredients, along with the Truvia and Swerve. Thoroughly mix it, then stir in the dry ingredients. Once everything is properly combined, let the dough rest for 10 minutes.
Preheat the oven to 325 F. Line a baking tray with parchment paper.
Scoop the cookies into 12 rounded scoops, and flatten them to your desired width and thickness. Place them in the oven to bake for 11 to 13 minutes (depending on size and thickness).
Let the cookies sit on the tray for 10 minutes before removing them and placing them on a wire rack to cool.
​
(Recipe courtesy of Amy's Healthy Baking)
Three simple recipes, but boy what delicious cookies they make! You'll find that you can get some incredibly whey protein cookies from these recipes. Keep the cookies handy for those moments when you want something sweet and healthy to eat, or when you need to refuel during or after an intense workout. They'll be an absolutely delightful option for replenishing eliminated energy and provide a lot of amino acids required for post-workout recovery.