Vital Whey® Vanilla 2.5 lb Bag

15g Protein per serving, 3.5g BCAAs
Just Four Ingredients!
Individual Lots Tested for Heavy Metals and Contaminants
Non-GMO Project Verified, Vegetarian
Rich in Immune Supporting Protein Fractions
Vital Whey® Vanilla is made with Proserum®: The Finest Whey Protein® available.
The milk for Proserum is derived from cows that are grass-fed and graze year-round on natural pastures. It is GMO-free, hormone-treatment-free, pesticide and chemical-free and undergoes minimal processing.
Vital Whey Vanilla is the preferred flavor for both adults and children. It is also a great way to manage your appetite and sustain energy throughout the day. Vital Whey Vanilla fits in at home as a healthy snack for parents and their children, as well as at the gym for the perfect protein boost after a hard workout. Anyone interested in restoring and maintaining a healthy lifestyle will agree it is the Vital Whey to good nutrition.
All Vital Whey products have a 2 year shelf life from the date of manufacture.
Optimal Protein Supplementation
Provides essential amino acids in correct balance*
Improves muscle strength*
Helps maintain overall health and energy*
Promotes antioxidant synthesis (Glutathione precursors)*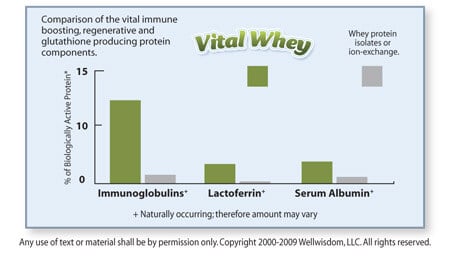 For more information on the differences between Vital Whey® Natural Vanilla Whey Protein Powder and other Well Wisdom whey products click here.
To view our Vital Whey Product Flyer click here.
* These statements have not been evaluated by the Food and Drug Administration. This product is not intended to diagnose, treat, cure, or prevent any disease.
Save