Description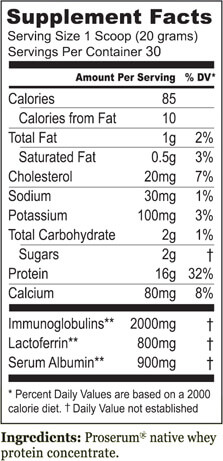 Vital Whey® Natural is made with Proserum® The Finest Whey Protein® available. It is a proprietary, undenatured, native whey protein® that is produced to maintain the full range of all the fragile immune-modulating and regenerative components naturally present in fresh raw milk.
The milk for Proserum is derived from cows that are grass-fed and graze year-round on natural pastures. It is GMO-free, hormone-treatment-free, pesticide and chemical-free and undergoes minimal processing.
Vital Whey® Natural is a delicious, 100% natural nutritional protein perfect for adults and children. This is the finest minimally processed, biologically-active, undenatured native whey protein. In addition to its many health-promoting properties it is a great way to manage hunger and sustain good energy levels. Vital Whey® Natural is the best choice for the parent in search of the healthiest snack for themselves and their children, as well as the athlete looking for the perfect pre and post-workout supplement, or anyone interested in optimal health. When you try it, you will agree it is the Vital Whey to health.
All Vital Whey products have a 2 year shelf life from the date of manufacture.
Optimal Protein Supplementation
Provides all the essential amino acids in correct balance*
Improves muscle strength*
Helps with overall health and energy levels*
Promotes antioxidant production (Glutathione precursors)*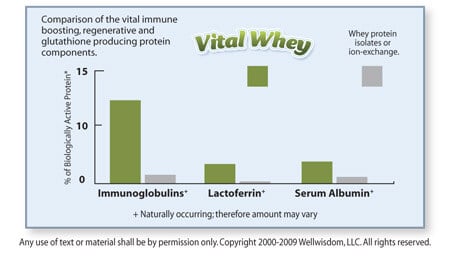 Difference between ImmunoPro and Vital Whey Natural
There is no difference in the ingredients in ImmunoPro and Vital Whey Natural. Both are 100% Proserum® native undenatured whey protein concentrate®. ImmunoPro is packed in a 300g jar with a 5g scoop for individuals who prefer tighter control on their protein intake throughout the day. Vital Whey Natural comes as a 600g jar or 2.5 lb. bag, both with a 20g scoop, and was designed for everyday and fitness users looking for larger volumes of protein.
For more information on the differences between Vital Whey® Natural and other Well Wisdom whey products click: HERE
For a current Proserum amino acid profile click here: View Well Wisdom Proserum pdf product sheet.
* These statements have not been evaluated by the Food and Drug Administration. This product is not intended to diagnose, treat, cure, or prevent any disease.