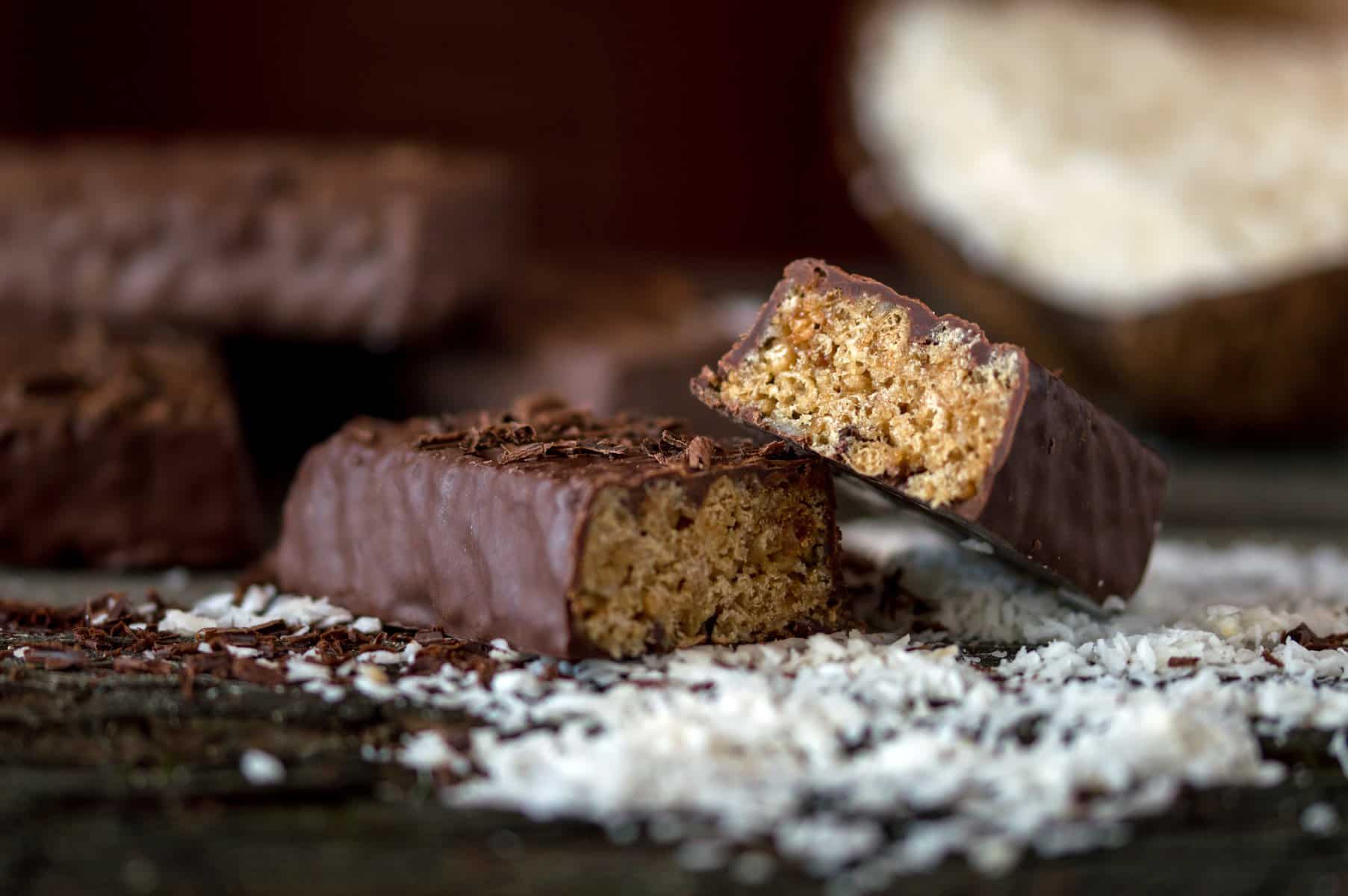 1/2 Cup Vital Whey Vanilla
1/4 Cup Flaked Coconut
1/4 Cup Coconut Flour
1/4 Cup Skim Milk
30g 85% Dark Chocolate
Love coconut AND chocolate? Were Mounds chocolates your favorite as a kid? This healthy chocolate coconut protein bar recipe  puts together the amazing complimentary flavors of coconuts and chocolate. It uses our Vanilla whey protein as the base for a hefty dose of high quality nutrition, then mixes in the delicious flavors of coconut and chocolate. This coconut protein bar recipe  does encourage you to toast the coconut flakes, but it can be just as tasty if you want to skip that step. When you are in need for a sweet but healthy treat, reach for this vanilla coconut protein bar recipe  to satisfy your cravings.
Serving size: 1 bar (Recipe makes 12 bars)
1. Place a skillet on the stove to heat. Once sufficiently heated, add in the flaked coconut. Toast until it is lightly browned, and remove from the heat.
2. Place a saucepan on the stove, filled about half-way with water. Place a glass bowl to float inside the water, and bring the water to a boil. Add the dark chocolate into the bowl, and use a double-boiler to slowly melt the chocolate.
3. In a separate bowl, mix the vanilla whey, coconut flour, and flaked coconut. Once the dry ingredients are mixed, add in the milk, stirring to ensure there are no lumps. Finish off with the dark chocolate.​
4. Use your hands to form the 12 bars, put them in the freezer, and let them sit for at least 30 minutes.​
Enjoy!
For all Vital Whey Recipes
To minimize potential damage to the fragile protein components, please take the following into consideration:
Avoid highly 

acidic fruits

 or juices (citrus, pineapple, kefir, etc). 
Avoid adding whey to any HOT liquids.
Our whey is minimally processed and it is best to avoid adding excess acid or heat within your recipe.


Latest posts by Kade Brittain
(see all)