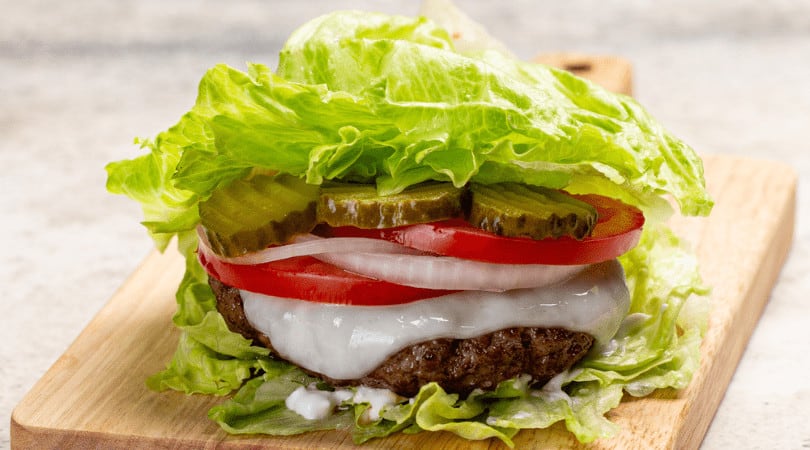 1 Pound 80% lean grass-fed/pasture-raised ground beef

8 Cups Romaine lettuce, chopped

4 Slices sharp cheddar cheese (about 4 ounces)

2 Roma Tomatoes, chopped

½ Medium red onion, sliced

1 Avocado, pitted, peeled, and diced

½ Cup Dill pickle chips

⅓ Cup Mayonnaise
2 TBSPs Ketchup
4 Scoops Glut Immune

2 TSPs Yellow mustard

1 TSP Dill pickle juice

½ TSP Salt

½ TSP Ground black pepper
Burgers can absolutely be a part of low-carb and high-protein diets without being reserved as a "cheat meal". The trick is replacing a high-carb bun with a lettuce wrap or transforming a loaded burger into a veggie-filled salad. You won't even miss the carbs with this burger salad bowl recipe!
This burger salad recipe uses all the traditional burger toppings — lettuce, tomato, onion, and avocado — to build a salad base.
Crisp burger patties, also known as smashburgers, are topped with melty cheddar cheese and piled on top of each salad. Unlike thicker burger patties, smashburgers maximize flavor and allow the patties to cook in just a couple of minutes by quickly pressing balls of seasoned ground beef into thin patties on a very hot pan or griddle.
For this smashburger recipe, we enhanced grass-fed beef patties with a glutamine supplement for added protein as well as immune support and muscle recovery.
Although this hamburger salad recipe comes together in under 30 minutes, you can cut down on prep time by purchasing pre-chopped or shredded lettuce at the store. Don't skip the "special sauce" though, which is a savory blend of classic burger condiments and acts as the salad dressing.
Prep Time: 20 to 25 minutes
Serving size: 1 serving (makes 4 servings)
Add salt, black pepper, and Glut Immune to the ground beef and mix together with your hands. Shape the meat into 8 equal-sized balls, about 2 ounces a piece. (You can eyeball it or use a food scale to make sure they're the same size.) Place the meat into the fridge while you assemble the salad.

In a small bowl, mix together the mayonnaise, mustard, ketchup, and pickle juice. Set aside.

Plate two cups of romaine on each bowl or plate. Top each salad with ¼ of the chopped tomato, red onion, avocado, and pickles.

Heat a cast iron skillet or griddle over high heat. Working quickly, place balls of meat on the hot pan. Use a metal spatula or burger press to apple pressure straight down and smash each ball of meat into a thin patty. A second spatula can help you apply additional pressure, if needed. Cook for 45 seconds to 1 minute, then use a spatula or bench scraper to flip each patty. Cover half of the patties with a slice of cheese, then slide the remaining patties on top to sandwich the cheese between two patties. Remove from the pan and arrange a 2-patty smashburger on each salad.

Top each salad with approximately 2 tablespoons of the "special sauce" and serve immediately.
Latest posts by Kade Brittain
(see all)