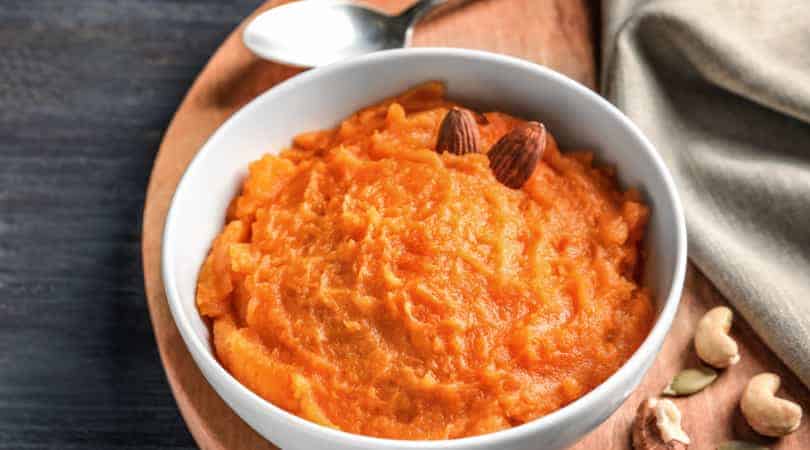 2 Large sweet potatoes

¼ Cup Full Fat Canned Coconut Milk

¼ Cup Sunflower Seed butter

10 Scoops Glut Immune

2 TBSP Monk Fruit Maple Syrup

1 TSP Cinnamon
1 TSP Water
¼ TSP Sea salt
Looking for a delicious high carb, pre-workout breakfast idea that will give you the energy and nutrition you need to power through? Try this delicious breakfast bowl with sweet potato to start your day off right.
Sweet potatoes do take a bit of time to prepare, so you don't want to start this sweet potato breakfast bowl recipe on a busy morning. Instead, consider prepping some sweet potatoes over the weekend so you can just grab them when you are ready to make this delicious breakfast for athletes.
The other ingredients in our sweet potato breakfast bowl take the nutrient content to the next level. Coconut milk adds medium chain triglycerides (MCTs). MCTs are a type of fat that is used immediately for energy in the body.
Sunflower seed butter is also high in healthy fats for a more sustained energy burn. Glut Immune, our glutamine supplement, helps support immunity, gut health, and post-exercise recovery. Glutamine is a critical amino acid for any athlete looking to improve their recovery.
Monk fruit maple syrup adds a bit of sweetness without the calories, while cinnamon helps stabilize blood sugar.
This delicious sweet potato breakfast bowl is the best way to fuel your workout or a busy day at work.
Serving size: 1 bowl (makes 5)
Preheat the oven to 425 degrees.  Wash and poke several holes into both sweet potatoes.  Wrap them individually with aluminum foil and bake for 45 minutes or until soft and very tender when you poke with a fork.  Once done cooking, pull from the oven and place on a plate to let cool.
In a mixing bowl mix together coconut milk, sunflower seed butter, monk fruit maple syrup, Glut Immune, water, cinnamon and salt.
Once the sweet potatoes have cooled down, disregard the peel and mash the sweet potato with a fork or mixer.
Now combine sweet potatoes with the wet ingredients and mix well.
You can eat right away while warm or place into individual containers in the refrigerator for a grab and go breakfast.
Serve hot, warm or cool and top with extra goodness like nuts, coconut flakes, dried fruits, flax seed or pour over some milk and enjoy.
Kitchen Notes: 
This is a great recipe to make over the weekend for grab and go meals for the week.  Enjoy it for breakfast, lunch or dinner.  Very filling and has a wonderful sweet and nutty flavor.  Also enjoyed by kids too!  This recipe is for 5 servings but if you want smaller bowls that works too. 
Here at Well Wisdom, we enjoy making a large batch of this recipe and freeze it in individual containers for up to a month.  You can use different milks but it changes the flavor. Also, you can use real maple syrup but that adds a lot of sugar to the meal.  Both of these changes along with adding toppings will change the nutritional values. 
Latest posts by Kade Brittain
(see all)