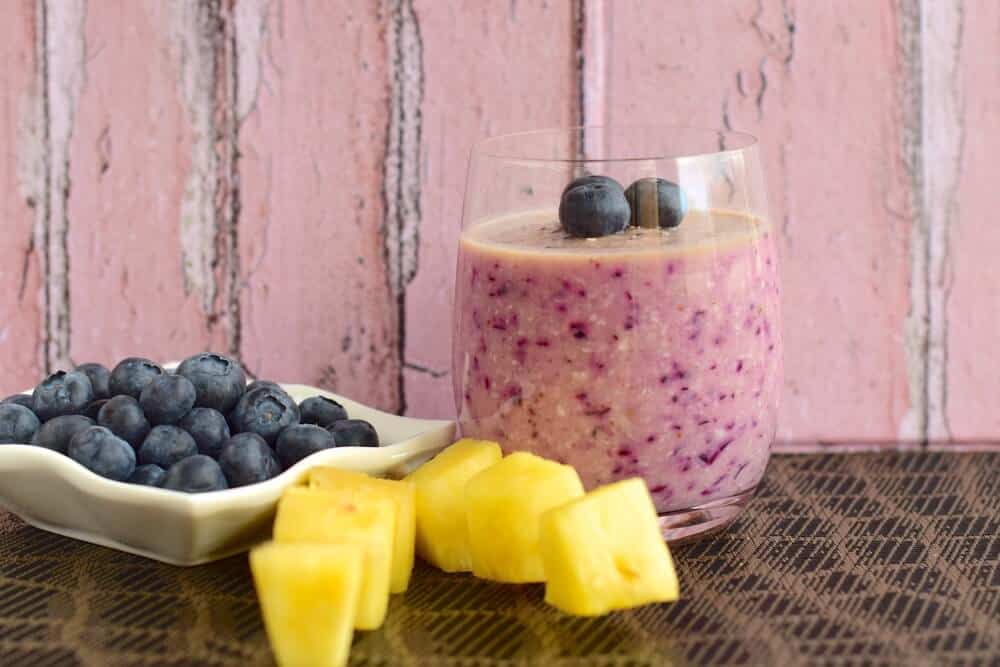 1 Cup Unsweetened Vanilla Almond Milk
1 Cup Frozen Pineapple
1/2 Cup

 Frozen Blueberries

1 Scoop (20g) Vital Whey Vanilla
1 TSP

 Shredded Coconut
Want to get whisked away to the tropics right in your own kitchen? This recipe for a fruit smoothie with protein powder can help you start to almost feel the ocean breeze.
The base of the smoothie is vanilla almond milk, but you could use unflavored almond milk or even regular milk instead. The flavor of the recipe doesn't come from the liquid base, but from the tropical fruits that are added, such as pineapple and coconut. These ingredients give the fruit smoothie a Pina Colada-like flavor that takes you right back to your last tropical vacation.
But, these delicious ingredients are not just for fun. Pineapple is high in vitamin C and fiber. Coconut is high in medium-chain triglycerides that have been linked to weight loss and other health benefits. The smoothie is also topped off with blueberries that provide a dose of antioxidants and a nice purple color.
Although a smoothie that contains just fruit is delicious, it won't be very filling. Adding protein powder in a fruit smoothie can help keep you full for hours. This one uses vanilla protein powder, but it would be just as delicious with unflavored. This fruit smoothie with vanilla protein powder is a delicious and well-balanced snack that will immediately help you feel like you are on vacation. 
Serving size: 1 shake
1. Combine all ingredients except the whey into a blender and mix on high until smooth texture is achieved. 
2. Once blended smooth, add in the Vanilla protein powder and mix on low setting for 30 seconds. This avoids too much agitation damaging the fragile protein fractions.
Enjoy!
Latest posts by Kade Brittain
(see all)