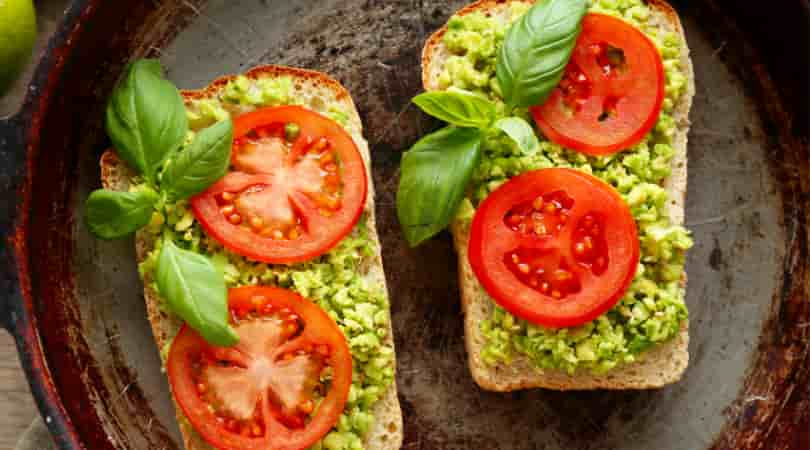 1 Slice Sourdough bread
1 Small Whole Avocado
1/2 Fresh Tomato
1 Tsp Bioactive Colostrum
1-3 Whole Basil Leaves
To Taste Glazed Balsamic
To Taste Salt & Pepper
Healthy avocado toast is a favorite healthy meal or snack option for many. Avocados are loaded with potassium, an essential nutrient for normal blood pressure. They are a great source of heart-healthy monounsaturated fats and fiber, which help regulate cholesterol levels. 
Depending on the type of bread you use, you can pack even more nutrition into your avocado toast. For our healthy avocado toast recipe below we chose to use sourdough bread which is loaded with prebiotics that help keep your gut bacteria healthy. It is also less likely to spike blood sugar levels, when compared to other types of bread. 
Our protein avocado toast recipe below has 1 tsp of Bioactive colostrum, which will not change the flavor, but will add a ton of nutrition. 
Bioactive colostrum is a natural source of immune-boosting nutrients, one of the most nutrient-dense foods on the planet. It is highly nutritious with protein, lactoferrin for immune function, growth factors, and antibodies to support optimal immune health. 
By adding the colostrum, we created an even healthier avocado toast for you to enjoy. Top it with tomatoes, basil and a drizzle of glazed balsamic for a protein-packed, nutritionally balanced meal.
Serving size: 1 loaded slice
1. Mash one Avocado.  Once it's completely mashed add salt and pepper to taste and mix in 1 tsp Bioactive Colostrum.  Spread over toasted sourdough bread (or bread you choose).  Top with tomatoes, basil and drizzle with glazed balsamic.  
Enjoy!
Latest posts by WPI Processing
(see all)