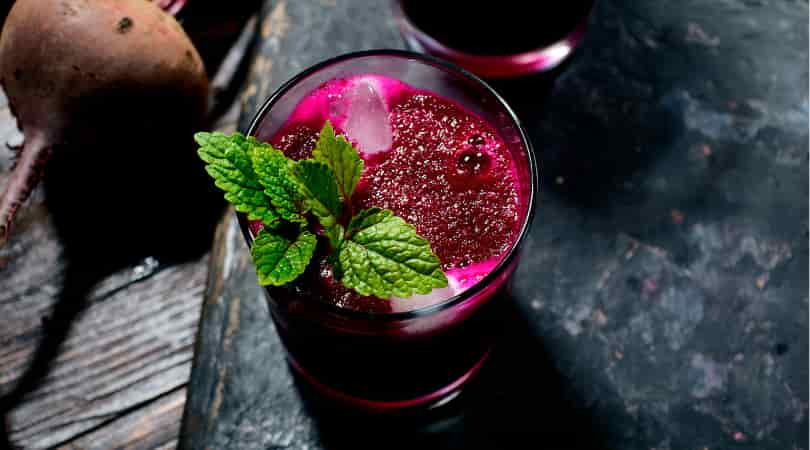 1 Cup Unsweetened Cashew Milk
1/2 Cup Frozen blueberries
4 oz. Beets (steamed and peeled)
1 Tbsp Toasted coconut
1/4 Tsp Vanilla extract
1 Scoop  Vital Whey Cocoa
1/4 Tsp Cinnamon (optional)
Beets are incredibly high in iron and antioxidants. But let's be honest, sometimes you forget about them as a veggie option. Or maybe they seem overwhelming because you are not quite sure how to use them in food.
Since we know how healthy they are, we created this beet smoothie recipe to help you incorporate beets into your routine, even if you don't always enjoy their flavor in other dishes or need ideas for how to use them. 
To make the smoothie even more nutritious, we added blueberries to our beet and blueberry smoothie recipe. This addition maxes out the anthocyanin content of this delicious beet and blueberry protein smoothie. 
Anthocyanins are antioxidants responsible for the purple color of both ingredients. They have anti-viral, anti-cancer, and anti-inflammatory benefits. A healthy diet includes at least 1-2 servings of purple fruits and veggies per day. You get two in this recipe!
To make this delicious, blueberry beet smoothie we start with cooked and cooled beets. We add blueberries, cinnamon, vanilla extract, and toasted coconut for sweetness. Vital Whey Cocoa adds a bit of chocolate flavor and sweetness to the mix. Plus, Vital Whey has 15 grams of protein per scoop helping make this a high protein beet and blueberry smoothie recipe.  
Just blend and enjoy!
Serving size: 1 smoothie
   

Quarter the beets.
2.      Add beets, frozen blueberries, vanilla, toasted coconut, cinnamon, Vital Whey Cocoa and Cashew milk into a high-speed blender, blend and enjoy!
Kitchen Notes: We used a pre packaged steamed and peeled beet from the grocery store.   If you do not have access to pre packaged beets you can boil fresh beets and store in your refrigerator.  
To boil beets bring a large pot of water to a boil.  Wash the beets and add to boiling water.  Boil for about 25-30 until skin can easily be removed.  Remove beets from boiling water and immediately add into an ice water bowl. Make sure you submerge completely.  Let sit for 2 minutes.  Dry and peel away the skins from the beets.  Store in the refrigerator up to a week. 
Any type of milk will work for this recipe just please remember your nutritional values will change. 
Latest posts by Kade Brittain
(see all)