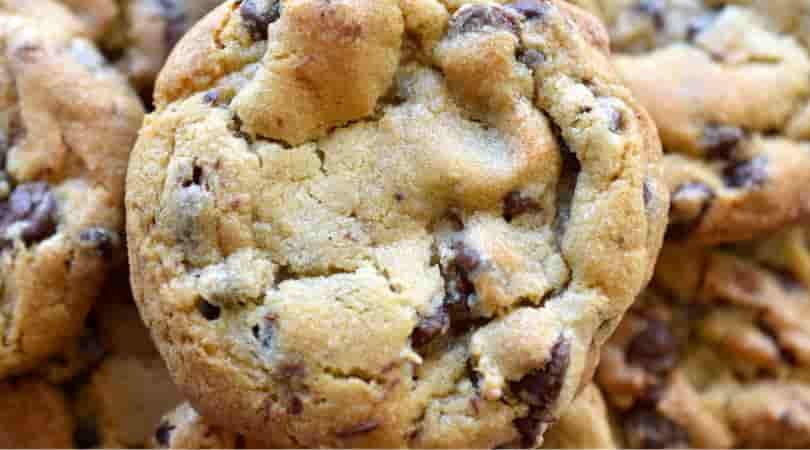 1½ Cups All-purpose flour

1 Cup Brown sugar

1 Cup Semisweet chocolate chips
¾ Cup Softened butter

½ Cup Granulated sugar

½ Cup Glut immune

1 Egg

1 Egg yolk

½ Tbsp Cinnamon

2 Tsp Pure vanilla extract


1 Tsp Baking soda

½ Tsp Salt
Who doesn't love a warm, ooey-gooey chocolate chip cookie with an ice cold glass of milk on the side? Sounds like an amazing treat to us!
When dreaming up our recipes here at Well Wisdom we always try to think of ways to create healthier versions of your comforting favorites. This healthy chocolate chip cookie recipe is our latest creation because honestly, we love cookies too.
The base of the recipe isn't all that different from a traditional chocolate chip cookie recipe, it still uses butter, sugar, eggs, and flour. We added a different ingredient to help increase the health factor- Glut Immune. 
Glut Immune is our L-glutamine supplement designed to support a powerful immune system, intestinal health, and brain function. Glutamine is an amino acid and the fuel of the immune system. During periods of illness, the requirement for glutamine increases significantly, as the body cannot keep up with increased demand. This is what makes a glutamine supplement critical for supporting your immune health. 
Additionally, glutamine can help with exercise recovery, muscle repair and maintaining proper pH balance. 
This powerful amino acid does so much for the body, we thought we would create some delicious recipes with glutamine to help you enjoy Glut Immune in a different way. We felt like these L-glutamine chocolate chip cookies were the most delicious way to add it to your diet. Don't you agree?
Serving size: 1 cookie (makes 12)
1. Preheat the oven to 325.  Line 2 Large baking sheets with Parchment paper.
2. In a Large bowl cream together softened butter and both sugars.  Add the egg, egg yolk and vanilla and mix to combine.  Don't forget to scrape the sides and the bottom of the bowl as needed.
3. In another bowl sift together glut immune, flour, baking soda, cinnamon and salt.  Add to the sugar mixture and mix until combined.  Add the chocolate chips and mix until evenly distributed.
4. Using a medium cookie scoop (about 1 ½ tablespoons), scoop the dough onto the baking sheets.  Bake for 12 minutes or until golden and set on the edges but still a little underdone in the center, being careful not to overbake.  The cookies will look puffy when they come out of the oven, but let them rest on the baking sheets for 5 minutes and they will begin to settle.  Remove the cookies to a wire rack to finish cooling.   
Latest posts by WPI Processing
(see all)