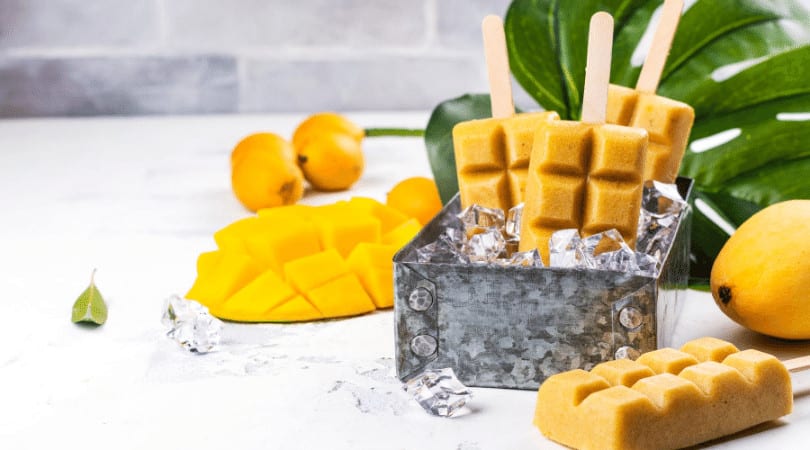 1 Whole Mango (approx. 1 packed Cup)
1/2 Cup Coconut Milk
2 Tsp Bioactive Colostrum
1 Tbsp Honey
Nothing says "summer" more than a delicious, tropical flavored ice pop. Because we love ice pops and the tropics, we created this healthy mango ice pop recipe that takes flavor and health to another level.
The addition of bioactive colostrum to is recipe resulted in a powerful immune boosting ice pop. At just 80 calories per 3-ounce pop, it is jam packed with 180 mg of IgG and 40 mg of Lactoferrin, a full serving of bioactive colostrum. These bioactive proteins support optimal immune function, helping your immune system fight off any challenge that comes its way. What a great way to have a treat and an immune boost at the same time!
Even without the addition of bioactive colostrum, this creamy mango ice pop would be plenty healthy and delicious all on its own. One cup of mango provides 67% of your daily vitamin C requirement to boost your immunity even more.  Mango is also high in fiber, copper, folate and many other vitamins and minerals.
The coconut milk adds a hefty dose of healthy fat and lends creaminess to the ice pop. The combination of mango and coconut will make you feel like you have been transported to your favorite tropical destination, while supporting your immune system at the same time.
Makes 4 Ice Pops (3 oz each)
Serving size: 1 Ice Pop
1. Put all ingredients into a blender and puree. 
2. Add mix to ice pop molds and freeze for 4 hours. 
Recipe notes:  If you used frozen mangos you might need 1.5-2 cups because of the extra space the frozen mangos leave. 
Also, if your mango is sweet you can use less honey.  Honey is only a sweetener not a binding agent. 
Latest posts by WPI Processing
(see all)