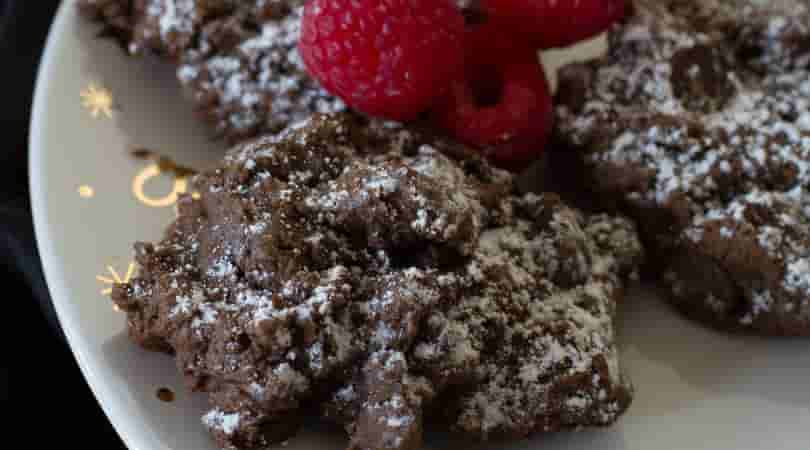 1 Cup Dried Cherries
1 Cup Unsweetened Toasted Shredded Coconut
10 Scoops Glut Immune
1/3 Cup Dark Chocolate Chips
Do you love the flavor of cherry with chocolate? Just like strawberries and chocolate, it seems like the taste of cherries and dark chocolate goes hand in hand. So, we decided to be inspired by chocolate covered cherries and create these dark chocolate clusters that combine dried cherries with our Glut Immune, glutamine supplement. 
Our chocolate protein clusters recipe starts by using dried cherries that have been rehydrated. Cherries are high in vitamin C, fiber, potassium, and a myriad of antioxidants. 
The texture of these healthy chocolate clusters comes from toasted coconut. Coconut is rich in medium chain triglycerides (MCTs). These healthy fats are metabolized differently than other fats, they are used right away for energy and not stored as body fat. 
Glut Immune is our glutamine supplement. Glutamine is the most abundant amino acid in the body. It is essential for immune function, DNA synthesis, cellular integrity, and muscle repair. It also helps support the synthesis of the body's most important antioxidant, glutathione. 
And finally, we can't forget the chocolate. Dark chocolate is rich in minerals, such as iron, magnesium and zinc. It is a source of powerful flavonoids, antioxidants that help preserve health. 
 If you don't care for dark chocolate or want a sweeter taste you can also use milk chocolate or yogurt chips.  Just remember this will change your calorie count and add more sugar.
If you are looking for a delicious healthy recipe with dried cherries, you have found a super simple one to try. You can enjoy these healthy chocolate clusters guilt free for a snack or as a dessert. 
Serving size: 1 cluster (recipe makes 10)
    Measure 1 cup of dried cherries and place in a bowl.  Cover the cherries with warm water and let sit for 20 minutes.  After 20 minutes drain them. 
    Add the soaked dried cherries, toasted shredded coconut, and Glut Immune into the bowl of a food processor. Pulse the mixture until it is combined and starts to form a ball of dough.  This might take a couple of minutes but give it time because it will form a ball.
    Wet your hands and make 10 balls.  Then flatten and shape each ball into a round cookie. Using a straw or chopstick to punch a hole in the middle of the dough.  Move the straw or chopstick around a bit to make the hole wider, if needed. 
    Place all cookies on a lined greased cookie sheet and transfer them into a preheated oven at 400 degrees for 10 minutes. 
    After 10 minutes remove them from the oven and let them cool on the cookie sheet for 10-15 minutes before transferring them onto a cooling rack. 
    Place the cooling rack into the freezer to allow the cookies to finish cooling.
    Melt dark chocolate on the stove. Place the dark chocolate chips in the top of a double boiler over barely simmering water. This method keeps the chocolate away from direct heat, which allows it to melt at a low enough temperature to prevent scorching and separating.
    Pull the cookies from the freezer and dip each one into the chocolate to coat the bottom.  Place the cookie on parchment paper and use remaining chocolate to drizzle over top the cookies.  Transfer cookies back into the freezer for 10-15 minutes to let the chocolate harden.  Once they've hardened, you'll be able to easily remove the cookies from the parchment paper.   You can enjoy right away or let them sit out on the counter for a few minutes.  Store in a sealed container in the refrigerator for up to 2 weeks or the freezer for 2 months.
Enjoy!
Kitchen Notes:
If you don't have toasted shredded coconut you can make it at home.  Preheat the oven to 400 degrees.  Spread the shredded coconut onto a baking sheet for toasting.  Place in the oven for 5-10 minutes until the coconut is a light golden-brown color.  Make sure to stay in the Kitchen and watch them so you don't burn the coconut.   Or you can toast the coconut in a pan on the stove top too!
If for some reason your mixture doesn't form into a ball of dough go ahead and add a tablespoon of water.  This doesn't change anything except for making the dough moister and you will NOT need to add additional cooking time.  
Latest posts by WPI Processing
(see all)