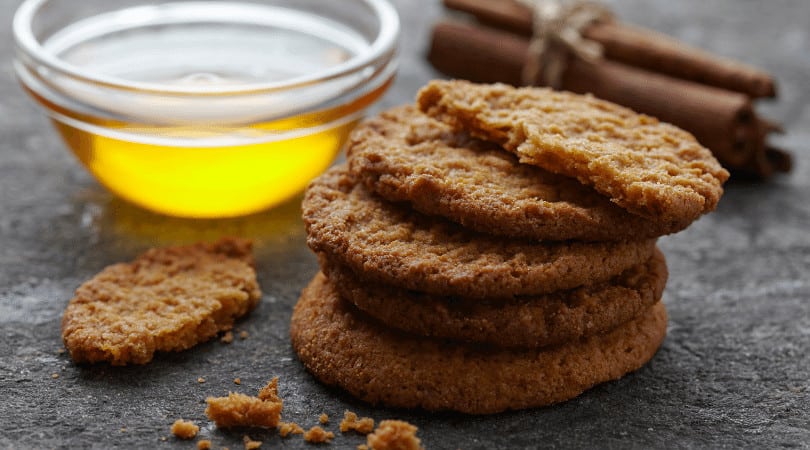 3/4 Cup All-Purpose Flour

1/2 Cup Gold Monk Fruit Lakanto

1/2 Cup Glut Immune™

1/4 Cup of Maple Syrup (Monk Fruit) 

1/4 Cup Lankato Classic Monk Fruit sweetener

1 Whole Egg

1 Tsp Ground Ginger

1 Tsp Ground Cinnamon

1/2 Tsp Baking soda

1/2 Tsp Ground Cloves

1/4 Tsp Salt
This diabetic ginger cookies recipe is the perfect addition to your cooler weather baking rotation this fall and winter. Not only do they have zero added sugar, they are also full of satisfying nutrients and a warm flavor. Healthy ginger cookies are the perfect way to add sweetness to the last few months of the year, and this recipe is ideal for anyone looking to limit their added sugar intake.
This recipe uses Glut Immune™, a highly absorbable and covalent-bonded glutamine. Glut Immune helps nutritionally support muscle repair, intestinal health, immunity, and brain function. What's more, each of the 12 cookies contains a full serving of Glut Immune™.
If desired, you can make the cookies smaller as well. Just remember to pull them out from the oven a little sooner than the directions below denote, after cooking for 8 minutes or so.
These cookies offer a nice cooling sensation in your mouth and are a great option for people with diabetes or who are just watching their added sugar intake. Plus, even healthy ginger cookies can be enjoyed by the whole family.
They use monk fruit products to naturally sweeten them without adding any calories. Plus, monk fruit – which is a small green melon – has the added benefits of being vegan and gluten-free without any unwanted aftertaste that some no-calorie sweeteners can have in baking.
Serving size: 1 cookie (makes 12)
Preheat the oven to 350°F. Line a large baking sheet with parchment paper and spray with coconut oil or any grease you prefer. Note that Glut Immune™ can be sticky when removing it from cookie sheets, so it's a good idea to make sure your baking surface is well-greased in preparation.

In a large mixing bowl, mix together the softened coconut oil and Gold Monk Fruit Lakanto until creamed. Then, beat in an egg and Maple Syrup Monk Fruit Lakanto until smooth. Don't forget to scrape down the sides as needed.

In another small mixing bowl sift the Glut Immune™, flour, salt, baking soda, ginger, cinnamon and cloves.

Add the dry mixed ingredients to the wet ingredients and gently mix everything together.

Spoon out about 1 to 1 ¼ inches of dough and roll into a ball. Once the dough is in the shape of a ball roll dough in the Classic Monk Fruit and place on a baking sheet. Remember to space the balls well because they will flatten as they bake.

Bake dough balls at 350°F for 10 minutes. They might look like they need to cook a little longer but leave them on the hot cookie sheet to cool. This will allow them to cook a little longer before removing cookies to a cooling rack.
We're confident that you'll enjoy making this aromatic and healthy diabetic ginger cookies recipe with your loved ones when you're stuck inside this winter. Plus, you can feel good about the healthy sugar-free ingredients used.
Latest posts by WPI Processing
(see all)