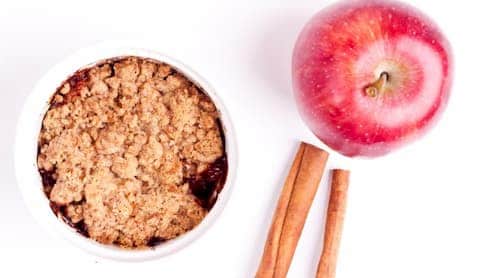 Filling:
3 1/2 Cup Chopped apples, peeled
1/4 Cup Maple syrup
1/4 Cup Water
2 Tsp Lemon juice
2 Tsp Arrowroot flour
1 Tsp Cinnamon
1 Tsp Pure vanilla extract
1/2 Tsp Nutmeg
1/4 Tsp Salt
Crust:
1 1/2 Cup Almond flour
1/2 Cup Glut Immune
1/2 Cup of Walnuts
1/3 Cup Maple syrup
2 Tbsp Melted ghee
1 Tsp Vanilla extract
1/2 Tsp Salt
Crumble:
1 Cup Walnuts
2 Tbsp Almond flour
2 Tbsp Maple syrup
Pinch Salt
Pinch Cinnamon 
Nothing says fall like a warm, sweet apple-based dessert. And when you put a delicious crumble on the top, it takes the enjoyment to an amazing level. But, at the same time, you don't want to throw your healthy diet out the window. So, we created this healthy apple crumble recipe to help you have the best of both worlds. 
This apple crumble recipe obviously starts with apples, which are loaded with the antioxidant quercetin. Quercetin is critical for our immune response as we move into the fall season. We boosted the immunity-support of this dessert even more by adding our Glut Immune to the recipe. Glut Immune contains glutamine, an amino acid that is the "fuel" of the immune system. 
Walnuts add a dose of the anti-inflammatory omega-3 fat called ALA, while cinnamon helps control blood sugar. 
One thing to note about this recipe is that although it is made with arrowroot and almond flour, Glut Immune is not gluten free as it is made from red wheat berries. If you cannot have gluten, you can substitute the ½ cup of Glut Immune for another ½ cup of almond flour or purchase a gluten-free premade crust instead. 
With the apples and Glut Immune this healthy apple crumble recipe is the ideal option to keep your immune system functioning optimally during the winter months, while allowing you to enjoy a delicious treat.
Serving size: 12 servings (in a 10×7 baking pan)
Prepare a 10 x 7 baking pan with cooking spray or parchment paper and preheat the oven to 425 degrees. 
In a saucepan heat chopped apples, maple syrup, cinnamon, salt, water nutmeg, vanilla and lemon juice. Once mixture has heated for 3 minutes add arrowroot flour and stir until combined and cook until the mixture becomes thick.
In a food processor, add all the ingredients for the crust and processing until mixture becomes a dough consistency.
Transfer the dough to the baking pan and spread out until it covers the bottom of the baking pan.  Pour the apple filling over the top of the dough and spread out until there is an even layer.
In the food processor add the crumble ingredients and pulse until it becomes a crumble texture.  Spread evenly over the apple filling and transfer to the oven.
Cook for 20-25 minutes or until the top is browned and middle is set.
Top with ice cream or whipped cream, if desired. 
Latest posts by WPI Processing
(see all)