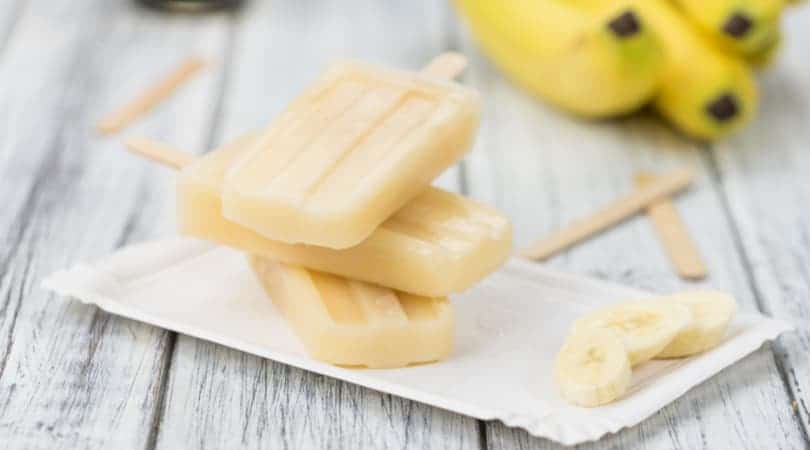 1 Cup Coconut milk
1 Large Banana (should be 4oz)
3 TBSP Toasted Coconut Flakes
4 TSP Bioactive Colostrum
1 Scoop Vital Whey Vanilla
Before your workout, what are you eating? Maybe a protein shake, a pre-workout supplement, or something else for fast energy? Have you ever considered a pre workout pop instead? How fun is that?
We created this tasty recipe for a frozen banana pop to fuel your workout in a fun way. This healthy frozen banana pop starts with one large banana which gives you about 30 grams of carbs (or 10 grams per pop). Carbs help give you energy during your workout. 
It also includes coconut milk for a creamy texture and a dose of medium chain triglycerides (MCTs). These are a type of fat that also provides energy to fuel your workout. We added toasted coconut flakes for a bit of texture as well. 
Our delicious banana ice pop also had to have a dose of protein. It includes our Bioactive Colostrum for immune support, essential for any high performing athlete. Also to boost the protein content we added a scoop of our Vital Whey Vanilla, which also adds a bit more sweetness. 
Making this recipe for a frozen banana pop a bit healthier with these ingredients makes it a great option for a pre workout snack on a hot summer day. The healthy carbs, MCTs, and protein will help you get through any sweaty workout. 
Serving size: 1 ice pop (makes 4)
Add all ingredients into a blender and blend. 

Add mix to ice pop molds and freeze for 4 hours.

Makes 4 ice pops 3oz each.  Nice and creamy, not overpowering with banana or coconut.  Nice blend together.
Latest posts by Kade Brittain
(see all)