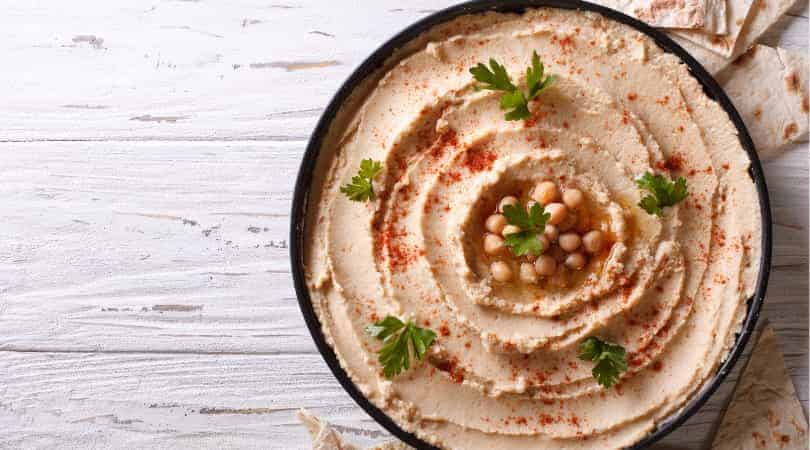 1 Can (15 oz) Chickpeas

1/4 Cup tahini (stirred well before measuring)

1 Large lemon

2 Small garlic cloves, minced

6 Scoops Glut Immune

2 TBSP Extra-virgin olive oil, plus more for serving

1/2 TSP Ground cumin

1/2 TSP Salt and extra for taste

3 to 5 TBSP water
Sure, you can buy hummus at the grocery store and it will probably taste fine. But making it yourself allows you to control all the ingredients and in our opinion, you can make it taste even better.
Since we love hummus as a snack or sandwich spread, we created this healthy hummus recipe to get you started. It contains all the ingredients you would expect from a simple hummus recipe, like chickpeas, tahini, garlic, and olive oil.
But, unlike other easy hummus recipes, this is a high protein hummus recipe. Not only do you get protein from the chickpeas, we also blend in our Glut Immune glutamine supplement, which adds an additional 24 grams of protein to the mix. The combination of these two ingredients creates a high protein hummus recipe with 10 grams of satiating protein per serving.
How will you serve your new healthy hummus recipe? We like to serve it with a drizzle of olive oil, roasted or fresh garlic, or a dash of paprika. Use carrot sticks, celery, snap peas, or other crunchy veggies to dip for a healthy snack.
Or you can always dip pita bread or pita chips if you are feeling hungry. Hummus is a great replacement for mayo on your favorite sandwich. Feel free to get creative!
Serving size: 1 serving (makes 6)
In the bowl of a food processor, combine the tahini and lemon juice and process for 1 minute, scrape the sides and bottom of the bowl then process for 30 seconds more.
Add the olive oil, minced garlic, cumin, and a 1/4 teaspoon of salt to the whipped tahini and lemon juice. Process for 30 seconds, scrape the sides and bottom of the bowl then process another 30 seconds or until well blended.
Open, drain, and rinse the chickpeas. Add half of the chickpeas and 3 scoops of Glut Immune to the food processor and process for 1 minute. During the minute of mixing add 2 TBSP of water.
After your first minute scrape sides and bottom of the bowl, then add remaining chickpeas and 3 more scoops of Glut Immune and process until thick and quite smooth; 1 to 2 minutes. During this process you might need to add another 2-3 TBSP of water to make the hummus the perfect consistency you prefer.
Store hummus in an airtight container and refrigerate up to one week.
Enjoy!
Kitchen Notes: To make hummus even creamier, remove chickpea shells before adding to the food processor.  This takes about 10 minutes but it's not required.   I recommend to only use ¼ tsp of salt during the mixing processes. You can always add in more salt and mix. We often use a total of ½ tsp of salt for this recipe.   If you don't have a fresh lemon you can add ¼ cup lemon juice.
References
https://www.inspiredtaste.net/15938/easy-and-smooth-hummus-recipe/
Latest posts by WPI Processing
(see all)