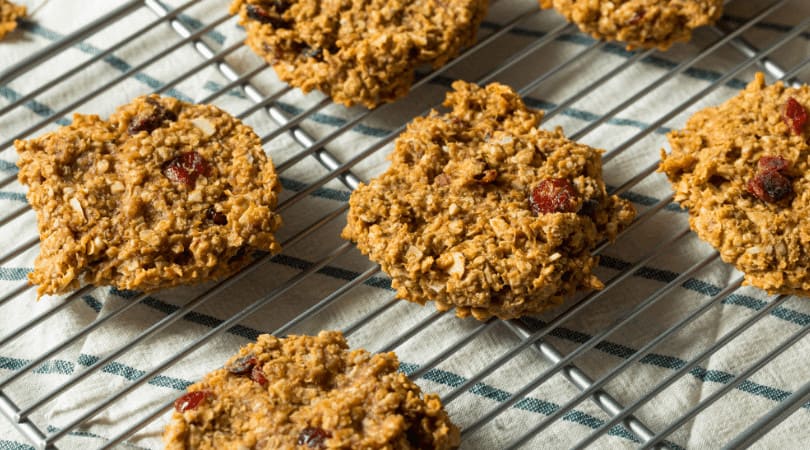 1 Cup Rolled Old-Fashioned Oats
1 Cup Quick Cooking Oats
2/3 Cup Dried Cranberries
2/3 Cup Pumpkin Seeds
1/4 Cup Coconut Oil
1/4 Cup Honey
1/4 Cup Ground Flaxseed
1/4 Cup Glut Immune
1 Tsp Pumpkin Pie Spice
1/2 Tsp Sea Salt
1/2 Tsp Pumpkin Puree
2 Whole Eggs (Beaten) 
Cookies for breakfast? Yes, please! Your childhood dreams have finally come true with this delicious healthy breakfast cookie recipe. It's a pumpkin breakfast cookie, in time for fall!
Of course, we were not going to create an unhealthy pumpkin oat cookie for you, so we made it as healthy as possible. The base is oatmeal, which is loaded with insoluble fiber to keep you full long after breakfast is over. We also added ground flaxseed for even more fiber and a vegetarian omega-3 boost.
The sweetness comes from a small amount of honey, pumpkin puree, and cranberries. Pumpkin adds a hefty dose of beta carotene, while cranberries are loaded with antioxidant goodness. The pumpkin seeds add a bit of crunch and are also rich in important minerals like magnesium, copper, and zinc.
What takes this pumpkin breakfast cookie recipe to the next level is the addition of our Glut Immune supplement. Glut Immune contains glutamine, the most abundant amino acid in the body. It is used to support immune function, cellular integrity, DNA synthesis, and reduce oxidative stress. Have you ever had a pumpkin breakfast cookie that did all of that?
Not only is this healthy breakfast cookie recipe loaded with so many incredible nutrients, it is also super easy to make ahead for those busy mornings. The recipe makes about 12 cookies that contain about 230 calories apiece. Although 230 calories isn't quite enough for a complete meal, you can either eat two cookies or pair the pumpkin breakfast cookies with a piece of fruit or a whey protein shake to round out your meal.
No matter how you serve them, our healthy breakfast cookie recipe will get your day started the right way. 
Serving size: 1 cookie (Makes 12)
Preheat oven to 350 F and line a baking sheet.

In a small mixing bowl warm coconut oil and honey in a microwave and set aside to cool down.

In a large mixing bowl combine both kinds of oats, cranberries, pumpkin seeds, ground flaxseed, Glut Immune, pumpkin pie spice and salt. Mix well. 
In your melted coconut oil and honey bowl add eggs and pumpkin puree and mix well. Once mixed well combine with the Large dry ingredients and mix well.
With a ¼ cup scoop out mixture and place onto baking sheet. You can press the mixture down to flatten (cookies will not spread while baking) Bake for about 10-15 minutes until the edges are lightly browned.
Let cookies cool on baking sheet before moving to an airtight storage container.
Latest posts by WPI Processing
(see all)