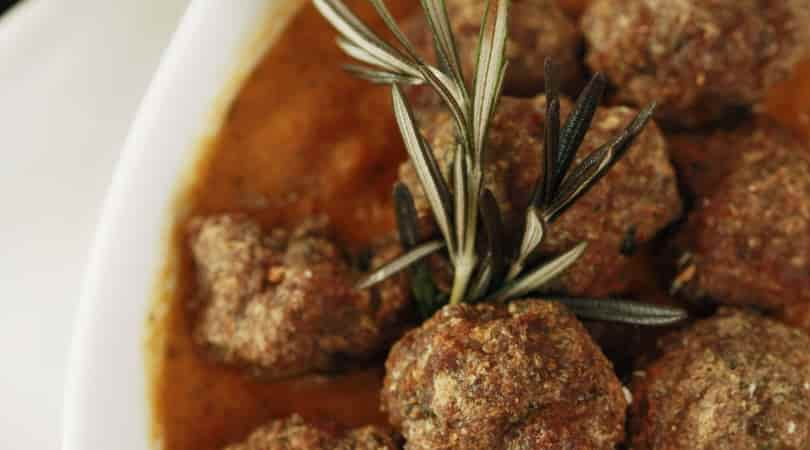 1 lbs. Ground Lamb

1 Cup Broth or water

1 Medium egg

4 Level Scoops Glut Immune

½ TBSP Garlic powder (1 TBSP if you really like garlic)

1 TSP Herbs de Provence

¼ TSP Salt
What is more comforting than spaghetti and meatballs? Can you already smell the savory herbs and spices?
Since we love making comforting recipes a bit healthier, we decided to create this ground lamb meatballs with Glut Immune recipe just for you.
Our lamb meatball recipe starts with lamb, which has a higher omega-3 content compared to other types of ground meats.  Recipes using ground lamb are loaded with vitamin B12, zinc and anti-inflammatory omega-3s which most of us don't get enough of in our daily diets.  So why not enjoy an extra boost of healthy fats in your ground lamb meatballs?
We then added our Glut Immune glutamine supplement to the meatballs in place of the breadcrumbs found in traditional recipes. Two meatballs contain one serving of Glut Immune. Glutamine helps support immunity, muscle repair, and gut function.
The seasonings are simple, just some Herbs de Provence, salt, and garlic powder.  Herbs de Provence is a mixture of rosemary, basil, thyme, marjoram, bay leaf, and lavender that create a beautiful blend of herbs that not only are used to complement the lamb but also have a great deal of health benefits
You can enjoy our lamb meatballs plain with your favorite veggie on the side. Or consider a healthier version by serving this over spaghetti squash with tomato sauce. If you are feeling a bit indulgent, they would of course be great over traditional spaghetti with tomato sauce. 
Serving size: 1 Meatball (makes 8)
In a large mixing bowl mix all the ingredients together well.  Divide into 8 parts and roll into 8 balls. Place in a greased baking dish and cover.  Bake at 375 for 20 minutes.  Remove from oven. Roll balls around and add enough broth to cover the bottom of the dish and place back in the oven for another 10-15 minutes uncovered.  The broth in the dish will help the meatballs stay moist while they crisp.
Enjoy!
Latest posts by WPI Processing
(see all)