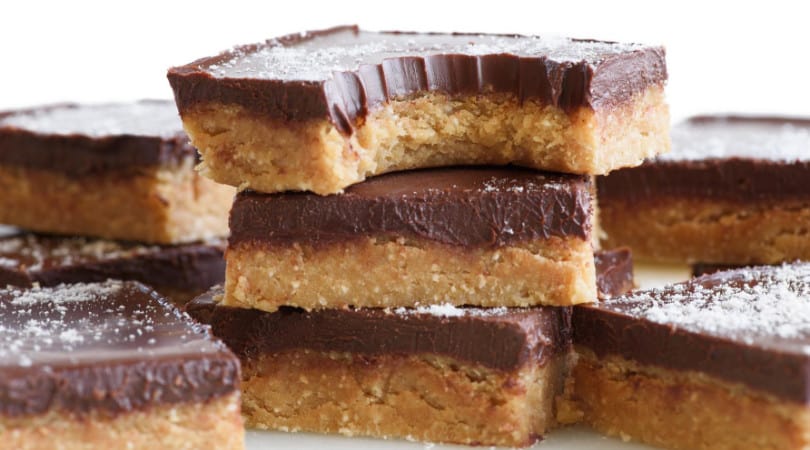 Peanut Butter Base
1 Cup Peanut Butter
1 Cup Almond Flour
1/4 Cup Maple Syrup
1/4 Cup Vital Whey Vanilla 
Pinch Salt
Chocolate Topping
1 Cup Semi-Sweet Chocolate (melted)
1/2 Cup Peanut Butter
1 Tsp Cinnamon (Optional)
Tired of getting always getting your protein in the form of a shake or smoothie? Why not try a protein bar instead? Our yummy no bake chocolate peanut butter bars are an easy and delicious option.
The best part about these homemade protein bars compared to a protein shake is that they are completely portable, making it almost effortless to get in your protein. To enjoy your protein powder as a smoothie or protein shake you must have access to liquid and a shaker cup or blender.
But bars like these no bake peanut butter protein bars can be made ahead of time and stashed in your purse or gym bag for a quick hit of protein any time.
Our no bake peanut butter bars start with peanut butter, obviously. But using peanut butter is just a suggestion, you can use any other kind of nut butter you like. Almond butter works great! The maple syrup adds sweetness and helps the bars stick together a bit. If you prefer, you can use honey or agave nectar instead for the same effect.
Almond flour and our Well Wisdom Vanilla Whey protein powder help give the bars their texture.  The protein powder adds about 15 grams of protein to this recipe for no bake protein bars. 
But the delicious part of the bars is not the peanut butter, but the chocolate topper. You can use regular semi-sweet chocolate chips or ramp-up the antioxidants by using dark chocolate chips. A dash of cinnamon provides flavor and a little blood sugar support.
The instructions for these no bake peanut butter bars couldn't be simpler, just mix and layer the ingredients and stick them in the freezer. Once they are frozen be sure to cut them up and freeze or refrigerate in individual baggies. They can keep frozen for several months or 2 weeks in the fridge, so you can always have a high protein snack ready to go.
Makes 16 Bars
Serving size: 1 Bar
To Make the Base
1. Mix all ingredients together.
2. Place into a wax paper lined 8×8 pan.
3. Add Peanut Butter mix to pan.
To Make the Topping
1. Mixed melted chocolate with peanut butter and cinnamon.
2. Poor over bar base that is in pan.
3. Freeze for an hour before cutting bars. Store in refrigerator or freezer.
4. Enjoy!
Latest posts by WPI Processing
(see all)