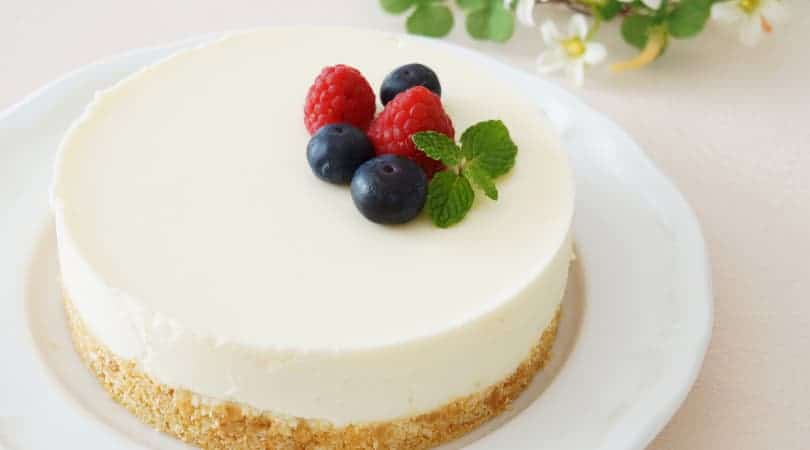 16 Oz Cream cheese, room temperature

14 Oz Sweetened condensed milk

2 Sleeves (18 Sheets) Graham Crackers

4 Scoops Vital Whey Vanilla

¼ Cup Fresh lemon juice

11 TBSP Unsalted butter, melted

1½ TSP Lemon zest

1½ TSP Vanilla extract
We love easy recipes, especially a healthy no bake cheesecake. Who doesn't love a simple way to make a healthier cheesecake that doesn't involve turning on the oven? Or, let's be honest, accidentally burning your special treat? 
We have to be honest, even though this easy cheesecake recipe is no bake, it does require some patience. The first step is to make the graham cracker crust which will need to go into the fridge for 20 minutes. Patience is hard, but in the meantime you can busy yourself with making the filling for the no bake protein cheesecake.
The cheesecake filling involves mixing our Vanilla Vital Whey protein with sweetened condensed milk and cream cheese. Adding protein powder to the mix will provide an additional 60 grams of protein in total to this healthy no bake cheesecake recipe. The amount of protein in each slice will vary, depending on how large you cut the slices.
Adding protein to a high sugar dessert can help you eat less, as protein is very satiating. It can also slow down the blood sugar spike you might experience after eating cheesecake. Keeping your blood sugar stable is the best way to maintain consistent energy all day.
Before serving you can top with fresh berries and around the outside crust.  Giving an elegant spring/summer fresh look to your dessert.  Or drizzled with chocolate or caramel, even toasted coconut or chocolate shavings can jazz up the dish!
These are just a few suggestions for making this easy no bake cheesecake recipe even tastier. Use your imagination to create the most appetizing recipe that meets your taste preferences.
Serving size: 1 slice (makes 8)
1. Place Graham crackers in the food processor and pulse until finely ground. (Or you can crush the graham crackers in a sealed plastic bag).  Transfer the graham cracker crumbs into a medium bowl and stir in the melted butter until mixture is well combined. 
2. Press the graham cracker mixture firmly into the bottom and up the sides (and 1 ½ inches) of a 9-inch springform pan. Cover the crust with plastic wrap and refrigerate it for 20 minutes.
3. In another mixing bowl with a standard mixer beat the cream cheese until smooth and then stream in the sweetened condensed milk and Whey. Add the lemon juice, lemon zest and vanilla extract and beat until combined.  Pour the filling into the chilled graham cracker crust, cover the cheesecake with plastic wrap and refrigerate it for 4 hours or until firm.
4. When ready to serve remove the cheesecake from the fridge and unclasp the spring on the springform pan to remove the outer ring.
Kitchen Notes – This cheesecake has a thicker mousse like consistency, it will never fully harden. Adding parchment paper to the bottom of my spring foam pan helps when transferring the cheesecake on to a plate before serving.  This step is not required but we find it helpful especially if you want a nice presentation.  If using Vital Whey Natural you might want to add 2 TBSP of sugar or Monk Fruit to sweeten your cheesecake.  Vital Whey Vanilla is sweetened with Monk Fruit, so we take out the sugar when using the Vital Whey Vanilla or Cocoa, however you can add it back in if you are looking for a sweeter cheesecake. 
Latest posts by WPI Processing
(see all)