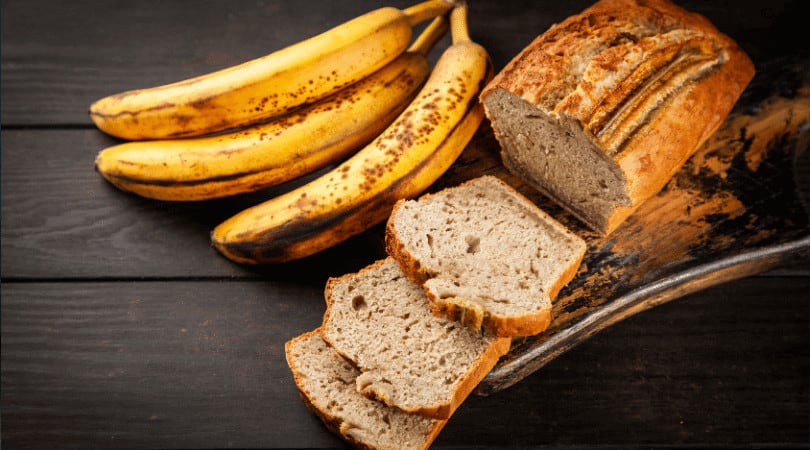 4 Whole Bananas (very ripe)

4 Whole Large eggs (room temp)

1 ¾ Cup

 Almond flour

½ Cup Tapioca flour

¼ Cup Coconut oil (melted and cooled down)

4 Scoops Glut Immune™

2 Tsp Vanilla extract
2 Tsp Cinnamon

1 Tsp Baking soda

½ Tsp Baking powder

¼ Tsp

 Salt
Banana bread is a classic recipe that's delicious year-round. It's also easy to adjust for individual needs and preferences, including making it sugar-free and diabetic-friendly like this version. This is a banana bread recipe with no sugar, and all of the nutrition and flavor that you love.
This is a simple combination of familiar ingredients, like mashed bananas, eggs, and vanilla, with our Glut Immune™ product optimal for individuals with diabetes. It uses coconut oil, which is a great source of medium chain triglycerides, as well as almond and tapioca flours, which are packed with fiber and protein.
Glut Immune™ is a high quality, bioavailable source of glutamine derived from red wheat. Not only does glutamine help support muscle repair, intestinal health, brain and immune function, it's also sugar-free and appropriate for individuals with diabetes.
This no sugar added banana bread is great for anyone who needs to control blood sugar, especially people with diabetes.
The recipe can be otherwise adjusted as you like. For instance, add more cinnamon or other spices to increase the flavors and aroma, like allspice, ginger, cardamom, or nutmeg. You may even like to add pecans, raisins, or a few chocolate chips to the batter.
With just a few simple tweaks to traditional banana bread, this healthy banana bread with no sugar will become one of your favorite diabetic friendly baking recipes.
Serving size: 1 slice (Recipe makes a loaf of 8 slices)
In a large mixing bowl, mash ripe bananas. Mix in eggs, vanilla and cooled down coconut oil.

Now sift almond flour, tapioca flour, Glut Immune, baking soda, baking powder, cinnamon and salt into the wet mix.
Once all dry ingredients have been sifted, mix and pour batter into a lined loaf pan. You can use a large loaf pan, mini loaf pans or muffin pans work great too! Bake at 350F for 50-60 minutes.
Let cool for 10 minutes on a cooling rack before removing it from the pan. Once removed from the pan, allow the bread to cool completely to allow it to set before cutting into it.
Enjoy!
Latest posts by WPI Processing
(see all)