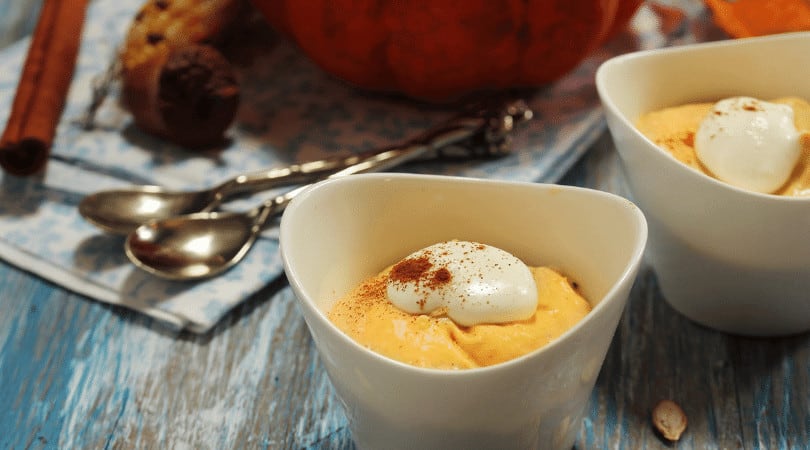 1 ½ Cups Heavy Whipping Cream

1 Cup Pumpkin puree (not pumpkin pie filling)

2/3 Cups Powdered Sugar

2/3 Cups Vital Whey Vanilla Protein

6 Oz Cream cheese

1 ½ Tsp Ground cinnamon

½ Tsp Nutmeg

¼ Tsp Ground ginger

Pinch Ground cloves
It's pumpkin season! Hooray! Are you looking to enjoy this fall season to the fullest? This pumpkin mousse recipe is a great addition to your fall favorites collection. When we were thinking about fall recipes, making this pumpkin mousse recipe healthy was obviously our first priority.
We started by balancing the sugar with our Vital Whey Vanilla. Maintaining a balance of sugar and protein helps slow down the blood sugar spike you might experience after a sweet dessert. The protein powder also adds a bit of its own sweetness, which means we were able to cut back on the sugar content a bit.
Cinnamon is also known for helping control blood sugar and it is essential for any pumpkin-based dessert.
At the end of the day, we wanted this mousse with whey protein recipe to still be tasty. We used heavy whipping cream, cream cheese, and powdered sugar as the base. These ingredients do add fat, sugar, and calories, but also make for a deliciously rich dessert. This means that just a small portion goes a long way in terms of satisfaction.
If you are looking for creative ways to make your desserts a bit healthier this fall, this whey protein mousse recipe is a perfect way to start!
Serving size: 1 serving (Recipe makes 6-8 servings depending on mousse volume)
1. In a chilled medium mixing bowl, mix heavy whipping cream on high speed until it begins to froth.   Slowly add in sifted Vital Whey Vanilla Protein and powdered sugar into the bowl and mix until soft and peaks form. Set aside in refrigerator (this is to keep it chilled but not required).
2. In a large mixing bowl add cream cheese and beat on medium speed until smooth.  Once smooth add pumpkin puree, cinnamon, nutmeg, ginger and cloves and mix until well combined.  Don't forget to scrap down the sides and the bottom of the bowl to mix everything thoroughly.
3. Fold all but 1 cup of the whipped cream and mix until completely smooth.
4. Either measure out into individual bowls or pipe the mousse into 6-8 small cups/bowls.
5. Add a dollop of the reserved whipped cream on top and sprinkle with cinnamon.
6. Chill for at least an hour before serving. 
Latest posts by WPI Processing
(see all)