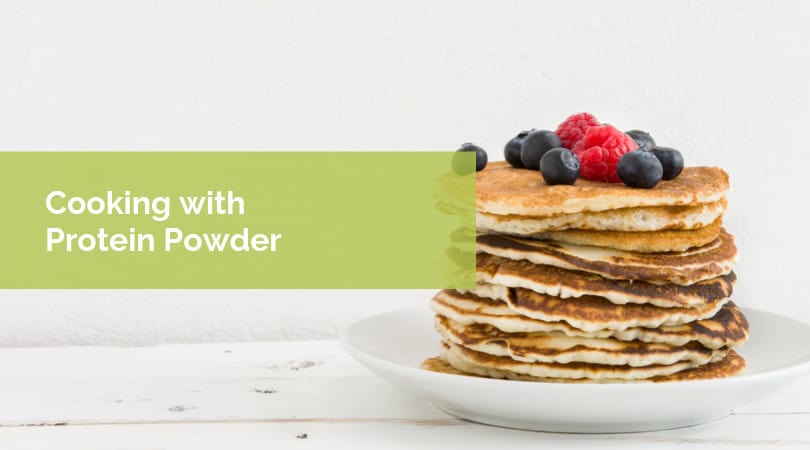 Think protein powder is only good for shakes and smoothies? Think again! Whey protein powder is way more versatile than that. There are so many whey protein powder recipes  that are not shakes — you have so many options to easily add protein powder to your day-to-day meals. From cookies to pancakes to protein-filled muffins, the possibilities are endless! Here are a few of our favorite cooking with protein powder recipes  and some tips on how to make them taste great.
Whey Protein Powder Recipes, Not Shakes
Depending on the type of protein powder you are using, you can put it a variety of recipes. Here are a few of our favorites in different categories:
Protein Bars
These No-Bake Almond Fudge Protein Bars from Running with Spoons have a delicious crunch from the crispy rice cereal while still packing some whole grains from the oats. These are a great way to get your protein powder and enjoy a chocolate-y treat.
From our own Well Wisdom recipe vault, these Pumpkin Protein Bars are a healthy way to enjoy the pumpkin flavors of fall without the added sugar and fat of traditional pumpkin desserts.
Other Recipes
For those following a low carb diet, pizza is frequently missed. But this low carb high protein pizza by Keto Adapted will stop your craving in its tracks.
Pancakes are a breakfast favorite, but you may find yourself in a serious sugar coma with a traditional recipe. These 4-ingredient Protein Pancakes by Willow Bird Baking will allow you to enjoy a delicious breakfast without all the added sugar.
You can even use protein powder to make wraps for sandwiches, like this Red Pepper Protein Wrap. These can be used as a high protein alternative to bread.
Whey Protein Powder Dessert Recipes
What is better than a healthy dessert that also has a bit of protein? Here are a few of our favorite whey protein powder dessert recipes :
These Peanut Butter Protein Cookies by Well Plated give you the delicious taste of chocolate with peanut butter, while packing 7 grams of protein each.
Do you dream of having it all? How about a high protein ice cream that is also loaded with a serving of green leafy vegetables? Here it is — High Protein Spinach Frozen Yogurt by the Pancake Princess.
Love chocolate muffins, but want to make them healthier? These Double Chocolate Protein Muffins by Eating Bird Food are a delicious high-protein alternative to regular high sugar, high calorie options.
Protein powder can even be used on popcorn to help make caramel corn creamy, like this version from Mel's Kitchen Café, which she claims is the best caramel popcorn in the whole world.
Recommended Products
Whey Protein Powder Cooking Tips
does take a bit of practice at first. Protein powder, if used incorrectly or mixed in at the wrong time, can make a recipe turn into a disaster. Here are a few tips for getting the best results when cooking with protein powder recipes :
Don't omit flour. Protein powder should not be used alone for baked goods. It may seem to have a similar texture to flour, but it cannot absorb any moisture. Only substitute up to 1/3 of the required flour for protein powder or you will end up with a liquid mess.
Stir, don't shake. If you mostly use protein powder for shakes, you probably use a blender or shaker cup to get it smooth. But over mixing baked goods will cause them to become overly dense and tough, so just stir until just combined, not smooth.
Don't worry about denaturating the protein. Yes, protein powder can become denatured or broken down when exposed to heat. Some of the immune-boosting properties may degrade once the protein is heated up. But the amino acids will remain even if they are broken down a bit, which means you still get most of the benefits from whey protein.
Grease it up. Whey protein can make food extremely sticky. To prevent foods from sticking, be sure to use non-stick cooking spray on your baking sheets and cake pans.
Moisturize your protein. Protein powder doesn't absorb moisture well, so any recipe needs an ingredient that will help prevent it from becoming a dry, rubbery cake. Pumpkin, applesauce, bananas or Greek yogurt are great moisturizing options.
Always add fat, especially for cookies. If you want a cookie that is moist, you need fat. Otherwise you will end up with a dense bread-like product instead.
It may take a bit of practice to learn how to cook these delicious whey protein powder recipes , but the results can be seriously delicious.
Cooking with Whey Protein Caveat:
To minimize potential damage to the fragile protein components present in more minimally-processed whey protein concentrates, we advise taking the following into consideration whenever possible:
Avoid highly acidic fruits or juices (citrus, pineapple, kefir, etc).

Avoid adding whey directly to any HOT liquids.
These two steps can go a long way to maintaining the more sensitive and vital proteins you're looking for in a high quality whey powder.
Latest posts by welladmin
(see all)