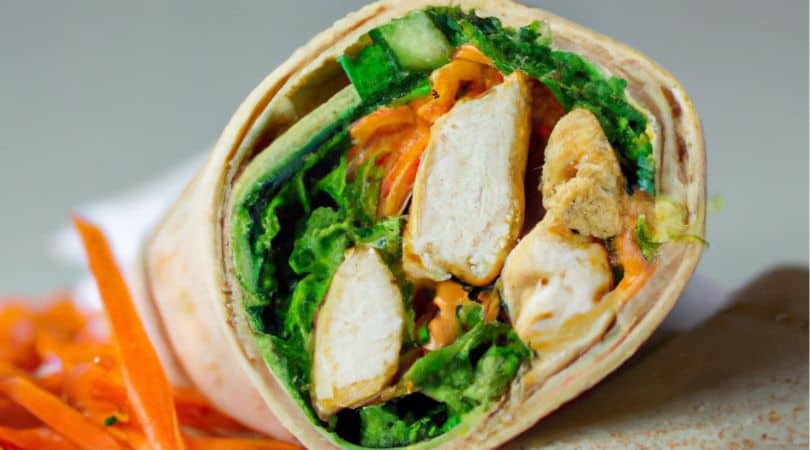 For the wrap:
½ Cup Egg whites (from 4 large eggs)

1 Scoop Natural Vital Whey (20 grams)

1 TSP Coconut flour

Pinch of salt
For the filling:
3 oz Shredded rotisserie chicken

2 TBSPs Hummus

½ Cup Shredded romaine

¼ Cup Shredded carrots

¼ Cup Cucumber slices

¼ Avocado, peeled and thinly sliced
Sandwich wraps are an easy, no-cook lunch or dinner option with an endless list of filling possibilities. A hummus and veggie wrap recipe is a healthy favorite, but lacks sufficient protein to keep you full. A chicken and hummus wrap recipe is a more filling option that can still be customized with your favorite veggies.
If you're looking for new chicken and veggie wrap recipes, try this chicken, hummus, and veggie wrap recipe, which gets a twist with a homemade high-protein wrap.
Traditional wraps and tortillas made from flour contain carbohydrates and little protein. If you're trying to eat fewer carbs or looking for ways to increase your protein intake, you'll be happy to learn you can make a high-protein wrap with whey protein powder and egg whites. This recipe keeps the wrap seasoning with a bit of salt, but you could also add garlic powder or other spices.
You'll fill this wrap with store-bought or home-cooked chicken, hummus, romaine, crunchy carrots and cucumbers, and avocado. This high-protein wrap will not only satiate, but also help promote healthy blood sugar.
Here's how to make a chicken, hummus, and veggie wrap packed with protein.
Total Time: 20 minutes; Yield: 1 serving
Prepare the batter for the wrap by placing the whey protein, egg whites, coconut flour, salt, and 1 tablespoon of water in a blender. Process until smooth and lump-free. The batter should be thin and pourable. If needed, blend in an additional 1 or 2 tablespoons of water.

Heat a large, 10-inch nonstick skillet over medium heat. Spray the skillet with cooking spray.

Reduce the heat to medium-low. Pour the batter into the skillet and swirl the pan to cover the bottom of the skillet. You can also use the back of a spoon to smooth the batter into a circular shape, if needed. Cook for 2 minutes or until the edges are set and the center is just barely wet. Use a large spatula to carefully flip the wrap and cook for 1 to 2 minutes more. Remove the wrap from the skillet.

Spread the hummus over the wrap to the edges. Top with romaine, chicken, carrots, cucumber, and avocado slices. Roll or fold the wrap to eat.
Latest posts by Ana Reisdorf, RD
(see all)