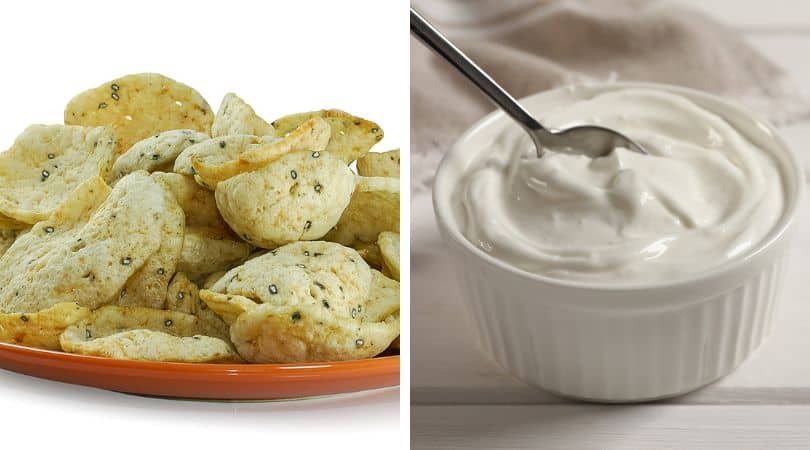 For the chips:
½ Cup

Brown or white rice flour

3 TBSPs

Water

2 Scoops

Well Wisdom Glut Immune

1 TBSP

Extra virgin olive oil

¼ TSP

Sea salt

 

For the dip:

1 Cup

2% Greek yogurt

1 Cup

Packed baby spinach

¼ Cup

Packed fresh basil leaves

¼ Cup

Packed fresh parsley leaves

2 TBSPs

Chopped fresh chives

2 TBSPs

Chopped fresh dill

1 Scoop

Natural Vital Whey protein powder

1 TBSP

lemon juice

1 Whole

Garlic clove

1 TSP

Dijon mustard

½ TSP

Sea salt

Cracked black pepper, to taste
When you're trying to lose weight, finding snacks that are lower in calories, nutritious, and satisfying can be challenging. Chips and dip are a common savory snack craving, but not alway a weight-friendly choice — unless you make your own. We're sharing a rice cracker recipe and a green goddess dip recipe that's delicious for weekday snacking, parties, or even tailgating.
Making your own crisps may sound complicated, but you only need rice flour, olive oil, and Glut Immune, plus water and salt, to make the rice chips recipe. The dough is very easy to work with and it only takes about 15 minutes to have light, crispy chips for dipping.
The green goddess dip is protein-packed with greek yogurt and whey protein powder. Remember: protein helps keep you fuller for longer. Including protein at each meal and snack helps keep hunger and food cravings under control to support weight management. The dip is a bright green color from a handful of spinach and is packed with flavor from fresh garlic, herbs, and lemon juice. If you have leftover dip, try serving with fresh veggies.
Here's the rice flour chips recipe and the recipe for green goddess yogurt dip:
Total Time: 30 minutes; Yield: 4 servings
Preheat the oven to 400 degrees Fahrenheit. Line a baking sheet with parchment paper and set aside.

Whisk together the rice flour, salt, and Glut Immune in a medium mixing bowl. Add the oil and water and stir until a dough forms. If the mixture is too dry and not holding together, add a bit more water. If it's too wet, add a bit more rice flour. You should be able to form a ball of dough.

Transfer dough to the parchment lined baking sheet. Cover the dough with a piece of plastic wrap. Use a rolling pin to roll the dough as thin as you can get it, about ⅛ inch thick. Remove the plastic wrap and use a knife or pizza cutter to cut the dough into squares. You don't have to separate the squares from each other.

Sprinkle the tops of the crackers with a small pinch of salt, if desired. Bake for 15 minutes or until the crackers begin to turn golden brown. Remove from the oven and let cool for 5 minutes on the baking sheet.

While the crackers are baking or cooling, prepare the dip. In a blender or processor, combine yogurt, lemon juice, dijon, whey protein, garlic, spinach, chives, dill, basil, parsley, salt, and cracked black pepper. Blend or process until smooth. Transfer dip to a serving bowl and serve with rice flour chips.
Latest posts by Ana Reisdorf, RD
(see all)