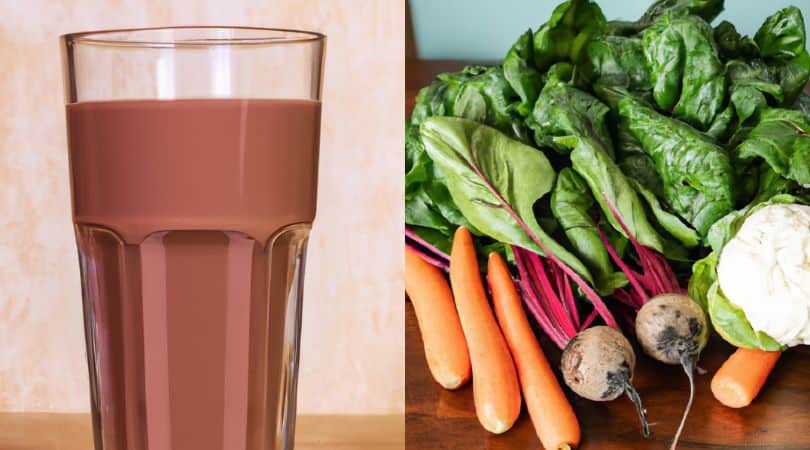 1 ¼ Cups Unsweetened almond milk

1 Cup Fresh baby spinach

¾ Cup Frozen riced cauliflower

¼ Cup Ice

1 Scoop Cocoa Vital Whey

2 TBSPs Chia seeds

1 TBSP Cocoa powder, optional

2 or 3 TSPs Granulated stevia or monk fruit sweetener

¼ TSP Ground cinnamon

¼ TSP Pure vanilla extract
Have you tried adding veggies to your chocolate protein powder shakes? Believe it or not, you can't tell you're drinking vegetables and it's a great way to squeeze in an extra serving or two of vegetables!
A homemade chocolate protein shake is also a good option for breaking a period of intermittent fasting. With fiber, protein, and healthy fat, a chocolate green smoothie recipe can be a balanced way to begin your eating window.
If you regularly use protein shakes as a quick, on-the-go meal replacement, a smoothie recipe with hidden veggies is more nutritious than protein powder mixed in a liquid. Many vegetables can be blended into smoothies. Good options to try include:
Beets

Carrots

Celery

Cucumbers

Cauliflower (raw or steamed)

Leafy greens, like spinach and kale

Lettuce

Pumpkin puree

Sweet potato (cooked)

Zucchini
This hidden veggie chocolate protein shake recipe contains cauliflower and spinach, plus cocoa whey protein, chia seeds, cinnamon, and vanilla extract. It can be naturally sweetened with a touch of stevia or monk fruit sweetener, making it a delicious and low-sugar recipe.
Here's how to make a spinach and chocolate protein shake.
Total Time: 5 minutes; Yield: 1 serving
Place almond milk, whey protein, chia seeds, cinnamon, vanilla, sweetener, spinach, cauliflower, and ice in a blender. Process on high speed until smooth. Transfer to a glass and enjoy.
Latest posts by Ana Reisdorf, RD
(see all)