A Chocolate Espresso Ice Cream Recipe That is a Taste Sensation
This is a delectable homemade recipe for chocolate espresso ice cream that is studded with crunchy chocolate-covered espresso beans. It also includes our Vital Whey protein powder, so you don't have to feel guilty about eating this delicious and healthy ice cream.
This recipe uses our rich and creamy, grass-fed Vital Whey Cocoa, and we've added a hint of coffee espresso powder! The two flavors together are delicious! This is also a great alternative to the store bought ice cream…and you can feel good about eating it too. All natural ingredients with no added preservatives…if you're going to do dessert this is a great, clean way to do it!
Makes 6 Servings (Serving Size 1 cup)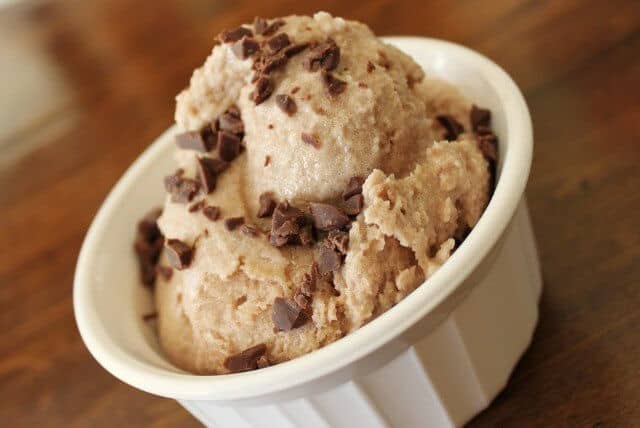 Ingredients
3 C Grass-fed Whole Milk
1/2 tsp instant espresso powder
1 tsp pure vanilla extract
1/4 C raw honey (or agave nectar)
4 scoops (80 grams) Vital Whey Cocoa
Directions
1. In a bowl combine milk, espresso powder, vanilla, honey and Vital Whey Cocoa.
2. Beat with a wisk or hand mixer for 2-3 minutes until mixture is smooth and there are no lumps.
3. Pour into ice-cream maker and follow the manufacturers directions.
Which Well Wisdom whey protein should I use in my recipe?
Special Instructions
To minimize potential damage to the fragile protein components, please take the following into consideration if using a blender:
Avoid highly

acidic fruits

or juices (citrus, pineapple, kefir, etc). To best maintain the native proteins within Well Wisdom's Proserum, our whey is not subjected to any acid treatment during manufacture, and we recommend avoiding acidic ingredients when consuming our products.

Avoid adding whey to any HOT liquids. Again, Proserum is minimally processed and it is best to avoid adding any additional heat with your smoothie.

For least amount of agitation, it is best to add all other ingredients in your smoothie and blend them first. Add whey protein at the end, and blend for a few seconds to ensure a smooth mix.
Nutritional Information
Amount Per Serving

Protein Calories Total Fat Carbs
14g 169.5 4.6g 17.8g
Latest posts by welladmin
(see all)