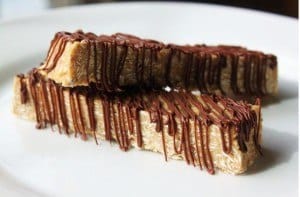 Makes 8 Servings
Recipe For Chocolate Peanut Butter Protein Bars
Ingredients
1 Banana (mashed)
¼ C Coconut Oil (melted)
¼ C Peanut Butter (or almond butter)
¼ C Agave Nectar
¼ C Water
¼ C Milled Flaxseed
¼ C Shredded Coconut (toasted if desired)
1 ½ C Rolled Oats
3 Scoops Vital Whey
½ C Chocolate Chips (melted)
Directions
In a bowl mash the banana with a fork or potato masher. Add the coconut oil, peanut butter, agave nectar and water and stir to combine. Then add in the flaxseed, shredded coconut, rolled oats, and Vital Whey.
Pour the mixture in a 9×5 loaf pan that is lined with plastic wrap. Put another layer of plastic wrap on top of mixture and press down to ensure an even layer.
Put mixture in freezer to firm up (at least 2 hours). Once firm, cut into bars and drizzle with melted chocolate.
Which whey protein should I use?
Vital Whey Natural for those who prefer no sweetener or flavoring. Can be added to ANY recipe! (Same as our ImmunoPro but in 600g jar)
ImmunoPro for those who prefer no sweetener or flavoring. Can be added to ANY recipe!
Special Instructions
To minimize potential damage to the fragile protein components when making your recipe, please follow these steps: Avoid highly acidic fruits or juices (citrus, pineapple, kefir, etc). To best maintain the native proteins within Well Wisdom's Proserum, our whey is not subjected to any acid treatment during manufacture, and we recommend avoiding acidic ingredients when consuming our products. Avoid adding whey to any HOT liquids. Again, Proserum is minimally processed and it is best to avoid adding any additional heat with your smoothie. For least amount of agitation, it is best to add all other ingredients in your smoothie and blend them first. Add whey protein at the end, and blend for a few seconds to ensure a smooth mix. These chocolate peanut butter protein bars not only taste great, but are good for you!
Nutritional Information Amount per Serving Protein: 10g Calories: 245 Total Fat: 4g Carbs: 20g
Latest posts by welladmin
(see all)