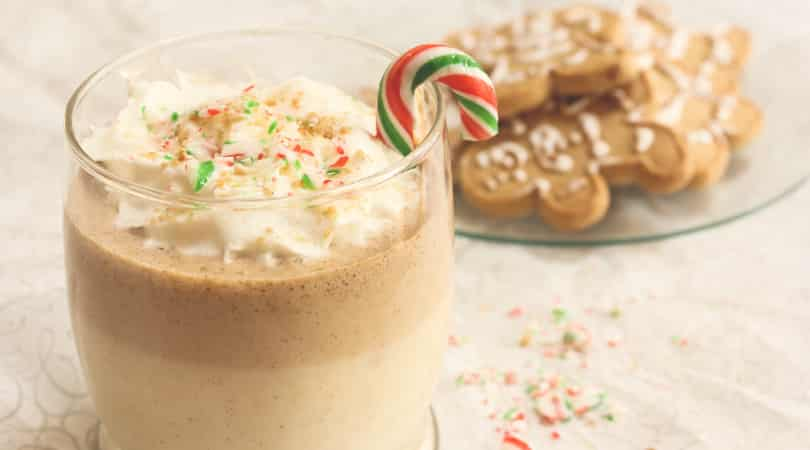 Shake:
2 Cups Ice

1 Cups Coconut milk (Almond milk works very well too!)

1 Scoop Vital Whey Vanilla

1/2 Tsp Ground Cinnamon

1/4 Tsp Ginger

1/8 Tsp Nutmeg

1/8 Tsp Ground cloves

Pinch Salt

Crushed gingersnap cookie, whipped cream and sprinkles (optional)
Whey Whipped Cream:
1 1/2 Cups Heavy Whipping Cream
2/3 Cups Powdered Sugar
1/3 Cups Vital Whey Vanilla Protein
Looking to spice up your daily smoothie with a little holiday cheer? This gingerbread smoothie recipe will leave you feeling festive and healthier this holiday season.
Our gingerbread cookie smoothie starts with a base of your favorite milk. We used coconut, which is rich, creamy, and slightly sweet. However, you can always substitute coconut milk for almond, oat, or cow's milk.
A scoop of Vital Whey vanilla adds a delicious vanilla flavor with 15 grams of high quality whey protein.
Cinnamon, ginger, nutmeg and ground cloves provide the spice for the gingerbread smoothie. These ingredients provide flavor and sweetness without any additional calories or sugar.
Each spice also has some amazing health benefits! Cinnamon helps balance blood sugar and ginger is a powerful anti-inflammatory. Nutmeg and clove both have antibacterial properties and act as antioxidants. Delicious taste and a ton of additional benefits to your health? Yes, please!
As a special treat, we also created a healthier version of whipped cream you can use to top your gingerbread cookie smoothie. It's a traditional whipped cream made with powdered sugar and a ⅓ cup of Vital Whey vanilla protein. A little dollop of whipped cream and a few cookie crumbles on top will make you feel like you are enjoying a special, decadent holiday treat. Enjoy!
Serving size: 1 Shake
Shake
Place all ingredients into a blender and process until thick and smooth.  
Whipped Topping
In a chilled medium mixing bowl, mix heavy whipping cream on high speed until it begins to froth.   Slowly add in sifted Vital Whey Vanilla Protein and powdered sugar into the bowl and mix until soft and peaks form.
Enjoy!
Latest posts by WPI Processing
(see all)