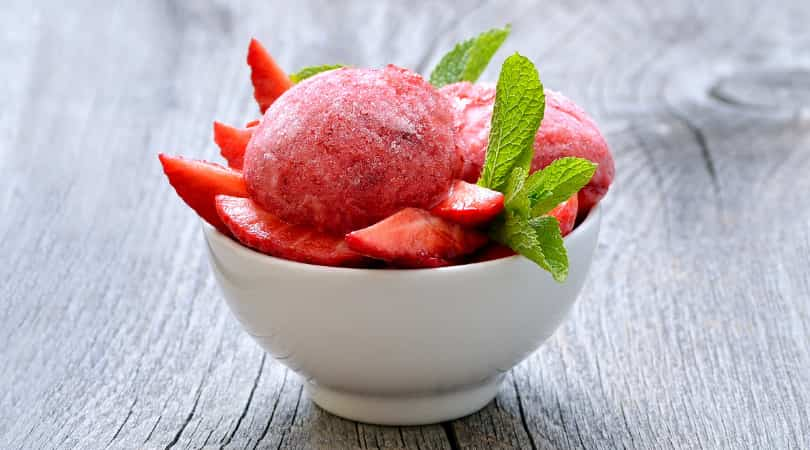 4 Cups Strawberries
1/2 Cup Goji Berries
1/2 Cup Canned Coconut Milk
4 Scoops Vital Whey Vanilla
1-2 TBSP Monk Fruit (to preference)
Goji berries are a "trendy" superfood that have been used for over 2,000 years for their medicinal properties. Native to Asia, the berries are now popping up in health food stores revered for their incredible benefits.
These red berries have been found to be high in antioxidants to help protect the eyes, support immunity, and may even help fight cancer.
But you may not be familiar with how to best use these super-nutritious berries, so we created a simple goji berry recipe for you. Our berry sorbet recipe combines goji berries with high antioxidant strawberries to create a delicious, low calorie refreshing treat.
To optimize the nutrient content and a touch of sweetness, we included some of our Vital Whey Vanilla to the mix. Whey protein powder also adds 10 grams of protein per serving. The canned coconut milk not only makes this high protein sorbet taste delicious, it also contributes a bit of fat to the recipe. Protein and fat help balance out the sugar content of the berries.
If it needs a bit more sweetness, you can add a little bit of monk fruit sweetener which will not change the calorie or carb count.
Our delicious goji and strawberry sorbet recipe is a high antioxidant, nutritionally balanced dessert you can enjoy as a refreshing treat any time.
Serving size: 1 serving (makes 8)
1. First soak goji berries for 20 minutes in warm water.  Drain and rinse.
In a blender or food processor blend the goji berries. Once well blended add one cup of strawberries at a time and blend. Once goji berries and strawberries are blended well add 1 scoop of Vital Whey Vanilla in at a time and mix.
3. Once everything is mixed add into an airtight container and freeze for 3-4 hours before servicing.
Enjoy!
Kitchen Notes: 
Taste before freezing.  Sometimes the strawberries can be a little tart and you will want to add an additional sweetener and that is okay.  Just add 1 TBSP of Monk Fruit at a time and blend.  Taste again before adding any additional sweetener.
Latest posts by WPI Processing
(see all)