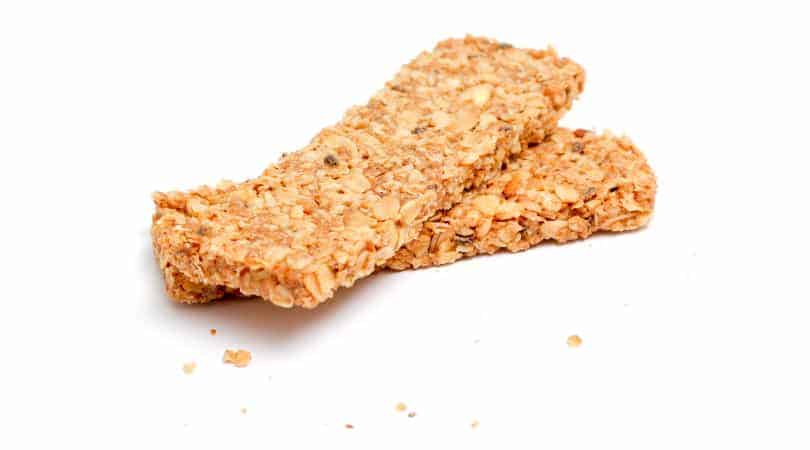 3/4 Cup Quick Oats
30 grams Whey Protein (ImmunoPro or Vital Whey)
4 TBSP Almond Butter
3 TBSP Ground Flaxseed
3 TBSP Maple Syrup
1/2 TSP Cinnamon
1/2 TSP Vanilla
Pinch

 Salt
Granola bars are a great portable snack.  However, store bought bars can be loaded with sugar and other undesirable ingredients. To help you up your snack game, we created this healthy granola bar recipe that you can make yourself. 
Our almond butter granola bar recipe contains almond butter, oats, ground flaxseed, and ImmunoPro or Vital Whey Natural to create a delicious and nutritious bar. In addition, we flavored the almond granola bars with cinnamon, and vanilla.  
The almond butter is a great source of healthy monounsaturated fats. Flaxseeds add anti-inflammatory plant-based omega-3s.  Maple Syrup and Almond Butter help hold the bar together.  Oats add a great source of fiber in this healthy granola bar recipe. 
You can't have a protein granola bar recipe without protein. ImmunoPro and Vital Whey Natural each adds 24 grams of protein to the total recipe.   Both ImmunoPro and Vital Whey are made with Proserum, the world's finest whey protein. 
Making this no bake granola bar recipe could not be easier. Just measure out the ingredients, mix, and freeze for an hour. Cut the pieces up and store in individual baggies or wrap in parchment paper for an easy, healthy, grab and go snack. 
Serving size: 1 bar (recipe makes 6)
    First mix oats, ImmunoPro or Vital Whey, flaxseed, cinnamon and salt.  Then add maple syrup, almond butter and vanilla and make sure you have mixed everything well. 
    Pull out a sheet of parchment paper and place the mixture on top of the parchment paper.  Flatten the dough and use the parchment paper to fold over the sides to help square off the dough. Once completed wrap the dough up with the parchment paper and place into the freezer. 
    After about an hour pull the dough out a cut into bars.  Makes 6 bars.
Enjoy!
Latest posts by WPI Processing
(see all)