This is a protein shake recipe that my kids REALLY love, and it tastes just like a strawberry milkshake! It keeps them full, gives them 24 grams each, of high quality protein and is easy to take with us when we're on the go. I make a 16 oz serving and divide it in two for them to share. Be sure to read the time saver tip in the directions for busy days. Enjoy!
A Triple Berry Protein Shake Recipe With Whey Protein
Servings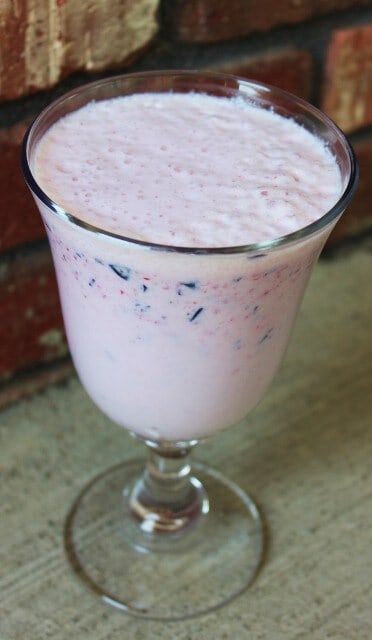 1 Serving (about 16 oz)
Ingredients
16 oz milk (or any beverage of your choice).
1/2 cup strawberries
1/2 cup raspberries
1/2 cup blueberries
1 Tsp Stevia
2 scoops (40 grams) Vital Whey Natural
Directions
1. In a blender combine milk, all berries and Stevia and blend. Add
Vital Whey protein
and pulse a few times to combine.
TIME SAVER: You can also puree berries with Stevia ahead of time and keep in the refrigerator. If you are on the go you can fill a Blender Bottle with milk, Vital Whey protein powder and then add puree and shake.
Which Well Wisdom Whey Protein should I use in my protein shake recipe?
Vital Whey Vanilla all natural vanilla flavor.
Vital Whey Cocoa all natural chocolate flavor.
Vital Whey Natural for those who prefer no sweetener or flavoring. Can be added to ANY recipe! (Same as our ImmunoPro but in 600g jar)
ImmunoPro for those who prefer no sweetener or flavoring. Can be added to ANY recipe!
Special Instructions
To minimize potential damage to the fragile protein components, please take the following into consideration if using a blender:
Avoid highly

acidic fruits

or juices (citrus, pineapple, kefir, etc). To best maintain the native proteins within Well Wisdom's Proserum, our whey is not subjected to any acid treatment during manufacture, and we recommend avoiding acidic ingredients when consuming our products.

Avoid adding whey to any HOT liquids. Again, Proserum is minimally processed and it is best to avoid adding any additional heat with your smoothie.

For least amount of agitation, it is best to add all other ingredients in your smoothie and blend them first. Add whey protein at the end, and blend for a few seconds to ensure a smooth mix.
Nutritional Information
Amount Per Serving

Protein Calories Total Fat Carbs
Whole Milk 47.5 550 18.7 47.7
Skim Milk 48.3 424 3.3 50
Latest posts by welladmin
(see all)