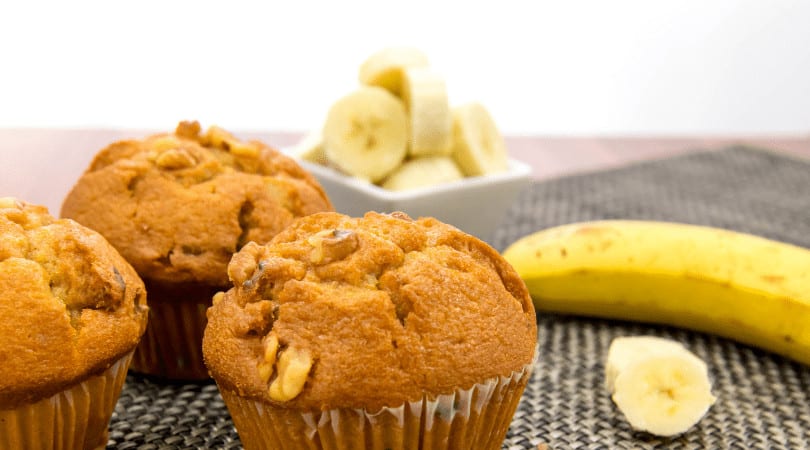 2 Medium bananas, mashed

1 Large Egg, lightly beaten

1 Cup Rolled oats, ground into flour

¾ Cup Chopped walnuts

¼ Cup Coconut oil, melted and cooled

¼ Cup Pure maple syrup

2 Scoops Vital Whey Vanilla protein

1 ½ TBSP Chia seeds

1 TSP Pure vanilla extract

1 TSP Ground cinnamon

1 TSP Baking powder
¼ TSP Salt
Getting regular exercise and eating heart-healthy foods, like these healthy banana protein muffins, can support heart health.
Heart disease is the leading cause of mortality for men and women in the United State, but it's sometimes still considered a "silent killer" among women. That's because women experience different symptoms than men when they suffer a heart attack or other cardiovascular event.
A key nutrient to focus on for heart health is fiber. The recommended fiber intake is 25 to 35 grams per day. Animal foods, like meat and dairy, don't contain fiber so it must be obtained from plant-based foods.
Eating enough fiber is also important for weight management and intestinal health. A balanced gut microbiome is linked to hormone balance and regulation of estrogen levels. Having too much or too little estrogen can result in numerous health concerns for women.
These Banana Nut Protein Muffins are made with fiber-rich oat flour, bananas, walnuts, and chia seeds. A couple scoops of Vanilla Vital Whey add protein for extra staying power.
These banana protein muffins make a quick breakfast or snack. For another variation on whey protein banana muffins, add mini dark chocolate chips or unsweetened shredded coconut to the batter.
Total Time: About 30 minutes; Yield: 12 muffins
Preheat oven to 350℉. Place paper or silicone liners in a standard muffin pan.

In a large mixing bowl, stir together mashed bananas, egg, coconut oil, maple syrup, and vanilla extract.

In a separate bowl, mix together oat flour, protein powder, cinnamon, baking powder, salt, and chia seeds.

Add flour mixture to banana mixture and stir until well-combined. Fold in walnuts.

Fill each muffin tin with batter about ⅔ of the way full.

Bake for 16 to 18 minutes or until a toothpick inserted in the center of the muffins comes out clean.

Let the muffins cool in the pan for 5 minutes, then transfer to a cooling rack. When the muffins are completely cool, store in an airtight container at room temperature.
Latest posts by Ana Reisdorf, RD
(see all)