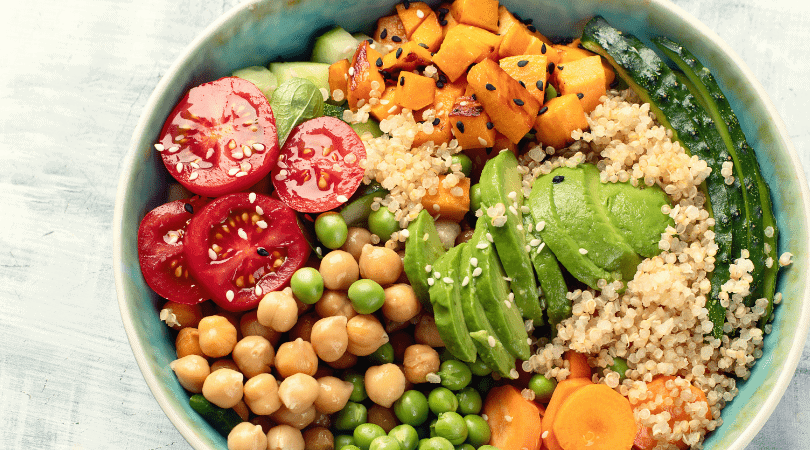 2 Cups

Mixed greens, such as baby spinach, kale, butter lettuce, or spring mix

½ Cup

Cooked barley

½ Cup

Canned chickpeas, drained

½ Cup

Cucumber, chopped

¼ Cup

Red onion, chopped

¼ Cup

Raw sauerkraut

¼ Medium

Avocado, sliced

2 TBSP

Slivered almonds
For the Dressing:
1 TBSP

Apple cider vinegar

1 TBSP

Extra virgin olive oil

1-2 TSP

Water

1 TSP

Dijon mustard

1/2 TSP

Honey

⅛ TSP

Ground turmeric

1

Garlic clove, grated

1 Scoop

Glut Immune

Salt to taste

Ground black pepper to taste
Caring for your gut health may not be the most glamorous part of your self-care routine, but feeding your gut microbiome has far-reaching benefits for your entire body
Gut healthy lunch recipes should include fiber, along with probiotics and prebiotics, which are essential nutrients for good digestive health.
Eating enough fiber helps prevent constipation, promotes healthy cholesterol levels by binding and eliminating cholesterol from the body, and can support weight loss efforts by enhancing satiety. The adult recommendation for fiber intake is 25 to 35 grams per day.
Vegan buddha bowl recipes are a great way to incorporate several high-fiber ingredients in a single meal. Some of the fiber sources in this buddha bowl recipe are leafy greens, barley, avocado, chickpeas, and almonds. This bowl delivers 15 grams of fiber, which is half the amount you need in one day.
We also included fermented ingredients, like sauerkraut and apple cider vinegar (with the mother) for probiotics, which promote a diverse microbiome in your intestines.
We now know the right mix of beneficial bacteria in your digestive tract benefits intestinal health, nutrient absorption, and immunity. There's also evidence that your intestinal bacteria influences mood and brain health via the gut-brain axis.
Total Time: 15 minutes
Makes: 1 servings
Prepare the dressing by whisking or shaking in a jar the apple cider vinegar, olive oil, water, honey, dijon, turmeric, garlic, and Glut Immune. Taste and season with salt and ground black pepper.

Build your bowl. Layer the mixed greens and barley in the bottom of your serving bowl. Top with chickpeas, red onion, cucumber, sauerkraut, avocado, and slivered almonds.

Drizzle the dressing over the bowl or serve it on the side.
Kitchen Notes
To save time, precook a pot of barley to make meal prepping buddha bowls easier or look for bags of frozen grains that simply need to be reheated.
Latest posts by Ana Reisdorf, RD
(see all)