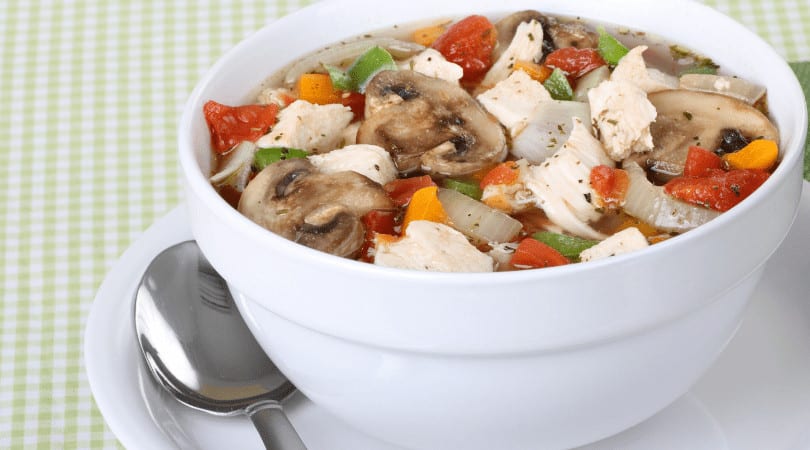 1 LB. Boneless, skinless chicken thighs

8 Cups Chicken stock

4 Cups Baby spinach

2 Cups Sliced button mushrooms

1/4 Cup Fresh parsley leaves, chopped

3 Yukon Gold potatoes (about 1 pound), chopped

4 Celery stalks, chopped

3 Medium carrots, chopped

3 Cloves garlic, minced

1 Large yellow onion, diced

1 Bay leaf

2 TBSP Extra virgin olive oil

1 TBSP Fresh ginger, peeled and chopped

1 TSP Salt

½ TSP ground black pepper

4 Scoops Glut Immune

1 Lemon (juiced)
A warm bowl of soup is a classic comfort food and this Chicken and Vegetable Soup is made with ingredients that help nourish from the inside out.
Gut health is especially important for women. When the environment in your intestines is balanced, it helps support nutrient absorption, immunity, and healthy hormone levels.
High estrogen levels are a common culprit behind many women's health issues. Unbalanced estrogen is linked to weight gain, mood swings, irregular periods, and more.
You can support your digestion, gut health, and hormones with this chicken thigh and vegetable soup.
This soup is made with chicken thighs, which are more tender and have a richer, meatier flavor compared to chicken breasts. A vegetable mixture of onion, carrots, celery, mushrooms, potatoes, and spinach provide good-for-your-gut fiber. Fresh garlic and ginger add flavor and anti-inflammatory health benefits. The mixture is simmered in chicken stock with added glutamine for extra intestinal support.
Each serving is high in protein and provides about 10% of the amount of fiber you need in a day. If you'd like to make this chicken vegetable soup recipe even heartier, you can add a grain, like rice or quinoa, or beans for additional fiber and protein.
Total Time: 40 minutes; Yield: About 5 servings
Prep Time: 10 minutes
Cook Time: 30 minutes
Heat oil in a large pot or Dutch oven. Saute the onion, carrots, and celery over medium-high heat until they begin to soften, about 5 minutes.

Add the mushrooms, garlic, and ginger and saute for 3 to 4 more minutes.

Add chicken thighs, potatoes, salt, black pepper, and bay leaf to the pot. Pour the stock over the mixture and stir in Glut Immune. Bring the soup to a boil, then reduce heat to medium-low and simmer for 20 minutes or until potatoes are fork-tender and chicken is cooked through.

Turn off the heat and stir in spinach, parsley, and lemon juice just before serving.
Latest posts by Ana Reisdorf, RD
(see all)