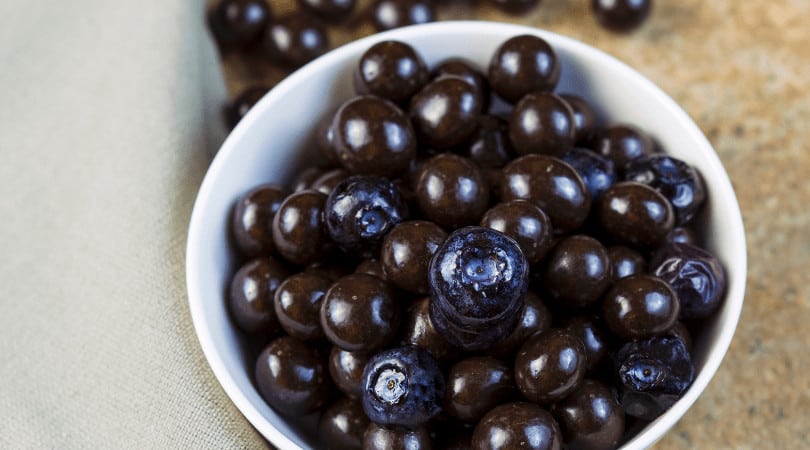 1 Cup Rolled oats

½ Cup Deglet noor dates

½ Cup Unsalted, natural almond butter

½ Cup Dried blueberries (not freeze-dried)

¼ Cup Cacao nibs

¼ Cup Raw, hulled sunflower seeds

1 scoop Vital Whey Cocoa

2 TBSP Unsweetened cacao powder

2 TBSP Ground flax seed

2 TBSP Maple syrup

½ TSP Pure vanilla extract

⅛ TSP Sea salt
If you're looking for healthy snack recipes to help break your daily habit of visiting the vending machine, whip up this sweet and fruity blueberry balls recipe.
Blueberries are one of the best brain boosting snacks you can eat. Blueberries are labeled a superfood because they're a wonderful source of potent polyphenols and antioxidants that help protect your entire body from oxidative stress and inflammation — the root cause of serious health problems like cognitive aging and memory troubles.
These blueberry protein bites taste like a decadent fudgy truffle, but are made with brain boosting ingredients like oats, cacao, flax seed, and of course, dried blueberries. They're naturally sweetened with dates and maple syrup, and enhanced with a scoop of Chocolate Vital Whey for extra flavor and filling protein.
This recipe uses dried blueberries, which shouldn't be confused with freeze-dried berries. Dried blueberries are soft, chewy, and similar in texture to raisins. Look for wild dried blueberries that are free of added sugars or sweetened only with 100% fruit juice.
This healthy blueberry recipe can help satisfy your sweet tooth and provide you with a boost of energy between meals to overcome the mid-day slump. Show yourself some love with a wholesome and delicious snack.
Makes:
20 balls/ 10 servings
Prep Time:
10 minutes,
Total Time:
10 minutes
Place oats, dates, almond butter, sunflower seeds, cacao powder, flax seed, maple syrup, salt, vanilla extract, and chocolate protein in a food processor with a multi-purpose blade attached. Process the ingredients until well-combined. The oats, seeds, and dates should be finely ground into the mixture. The mixture should be just wet enough to hold together when you pinch it between your fingers. If it's too dry, mix in 1 tablespoon of water.

Add the dried blueberries and cacao nibs to the food processor and pulse until just incorporated.

Use clean hands to roll the mixture into 1 ½-inch balls. You should end up with 20 balls. Store the balls in a covered container in the refrigerator for up to one week.
Kitchen Notes
This recipe was created with deglet noor dates, which are smaller than Medjool dates. You can substitute Medjool dates, but should use 4 or 5 Mejool dates in place of ½ cup deglet noor dates. Use dried blueberries, not freeze-dried. Look for dried blueberries that contain no added sugar or have been sweetened with 100% fruit juice. If you can't find cacao nibs, you can substitute mini chocolate chips.
Latest posts by Ana Reisdorf, RD
(see all)